| Year | Artist | Album | Role |
| --- | --- | --- | --- |
| 1986 | Rich Mullins | Rich Mullins | Background Vocals |
| 1986 | Dion DiMucci | Velvet & Steel | Background Vocals, Hand Claps, Vocals |
| 1986 | Billy Crockett | Surprises in Disguises | Crowd Voice |
| 1987 | Prism | Yellow | Background Vocals |
| 1987 | Kenny Marks | Make It Right | Background Vocals |
| 1987 | Rich Mullins | Pictures in the Sky | Background Vocals |
| 1987 | Michael W. Smith | Live Set | Songwriter, Guitars |
| 1987 | Paul Smith | No Frills | Background Vocals |
| 1987 | Steven Curtis Chapman | First Hand | Background Vocals Arranger, Background Vocals |
| 1987 | Margaret Becker | Never For Nothing | Songwriter, Guitars, Vocals |
| 1988 | Geoff Moore & The Distance | A Place to Stand | Songwriter, Background Vocals |
| 1988 | Rich Mullins | Winds of Heaven, Stuff of Earth | Background Vocals |
| 1988 | Kim Hill | Kim Hill | Songwriter |
| 1988 | Rick Cua | Can't Stand Too Tall | Background Vocals |
| 1988 | Carman | Live! Radically Saved | Background Vocals |
| 1988 | Kim Boyce | Time and Again | Backing Vocals |
| 1988 | Steven Curtis Chapman | Real Life Conversations | Background and Choir Vocals |
| 1988 | Amy Grant | Lead Me On | Background Vocals |
| 1989 | JC and the Boyz | Never Give Up | Background Vocals |
| 1989 | Amy Grant | A Moment In Time | Guitars, Bass, Background Vocals |
| 1989 | S.F.C. | Listen Up | Vocals |
| 1989 | White Heart | Freedom | Background Vocals |
| 1990 | Scott Wesley Brown | Living in the Comfort Zone | Background Vocals |
| 1990 | Donna McElroy | Bigger World | Guitars, Background Vocals |
| 1990 | David Meece | Learning to Trust | Background Vocals |
| 1990 | White Heart | Souvenirs | Background Vocals |
| 1990 | White Heart | Power House | Background Vocals |
| 1990 | Bruce Carroll | Great Exchange | Background Vocals |
| 1990 | Buddy Greene | Sojourner's Song | Background Vocals |
| 1990 | dc Talk | Nu Thang | Guitars, Background Vocals |
| 1990 | Steven Curtis Chapman | For the Sake of the Call | Background Vocals |
| 1991 | Priscilla Engle | Learning To Love | Backround Vocals |
| 1991 | Greg X. Volz | Exodus | Guitar |
| 1991 | Carman | Shakin' the House...Live! | Background Vocals |
| 1991 | Steve Camp | Consider the Cost | Background Vocals |
| 1991 | Margaret Becker | Simple House | Vocals |
| 1991 | Rick Cua | Within Reach | Songwriter |
| 1991 | Amy Grant | Heart in Motion | Background Vocals |
| 1991 | David Mullen | Faded Blues | Songwriter |
| 1992 | JC and the Boyz | Chill 4 Awhile | Background Vocals |
| 1992 | Billy Sprague | Torn Between Two Worlds | Background Vocals |
| 1992 | Michael W. Smith | Change Your World | Background Vocals |
| 1992 | dc Talk | Free at Last | Background Vocals |
| 1992 | Steven Curtis Chapman | The Great Adventure | Background Vocals |
| 1992 | Carman | Revival in the Land | Background Vocals |
| 1992 | Kim Boyce | Facts of Love | Background Vocals |
| 1992 | Vince Ebo | Love Is the Better Way | Background Vocals |
| 1993 | Michael English | Hope | Background Vocals |
| 1993 | NewSong | All Around the World | Background Vocals |
| 1993 | Carman | The Standard | Background Vocals |
| 1993 | Steve Camp | Taking Heaven by Storm | Background Vocals |
| 1993 | David Meece | Once in a Lifetime | Background Vocals |
| 1993 | Bob Carlisle | Bob Carlisle | Background Vocals |
| 1993 | Ashley Cleveland | Bus Named Desire | Background Vocals |
| 1994 | Hokus Pick | Brothers From Different Mothers | Guitars, Vocals |
| 1994 | White Heart | Nothing but the Best Radio Classics | Background Vocals |
| 1994 | White Heart | Nothing but the Best Rock Classics | Background Vocals |
| 1994 | Gary Chapman | The Light Inside | Background Vocals |
| 1994 | Idle Cure | Eclipse | Background Vocals |
| 1994 | Amy Grant | House of Love | Background Vocals |
| 1994 | David Mullen | David Mullen | Background Vocals |
| 1994 | Steve Camp | Mercy in the Wilderness | Background Vocals |
| 1994 | Kim Boyce | By Faith | Background Vocals |
| 1994 | Bob Carlisle | The Hope Of A Man | Background Vocals |
| 1995 | John Schlitt | Shake | Vocals |
| 1995 | Petra | No Doubt | Background Vocals |
| 1995 | White Heart | Attack! | Background Vocals |
| 1995 | Dallas Holm | Face of Mercy | Background Vocals |
| 1995 | Buddy Greene | Minstrel Of The Lord | Background Vocals |
| 1995 | Chris Eaton | Wonderful World | Background Vocals |
| 1995 | Margaret Becker | Grace | Guitars |
| 1995 | East to West | North of the Sky | Background Vocals |
| 1995 | Carolyn Arends | I Can Hear You | Background Vocals |
| 1995 | Michael W. Smith | I'll Lead You Home | The Choir, Background Vocals |
| 1996 | White Heart | Early Years | Background Vocals |
| 1996 | Aaron Jeoffrey | After The Rain | Backing Vocals |
| 1996 | Gary Chapman | Shelter | Background Vocals |
| 1996 | Twila Paris | Where I Stand | Background Vocals |
| 1997 | Aaron Jeoffrey | The Climb | Backing Vocals |
| 1997 | Bruce Carroll | For The Record | Background Vocals |
| 1997 | Chris Rice | Deep Enough To Dream | Background Vocals |
| 1997 | Amy Grant | Behind the Eyes | Background Vocals |
| 1998 | Chris Taylor | Down Goes the Day | Background Vocals |
| 1998 | Bruce Carroll | Boomerang | Guitars |
| 1998 | Margaret Becker | Falling Forward | Background Vocals |
| 1998 | Michael W. Smith | Live the Life | Guitar, Background Vocals |
| 1999 | Chris Rodriguez | Beggar's Paradise | Producer, Songwriter, Acoustic and Electric Guitars, Classical Guitar, Bass, Lead and Background Vocals |
| 1999 | Anointed | Anointed | Guitars |
| 1999 | Michael W. Smith | This Is Your Time | Guitar, Acoustic Guitar, Background Vocals |
| 2000 | Don Moen | I Will Sing | Guitars |
| 2000 | Russ Lee | Words in Time | Background Vocals |
| 2000 | Carolyn Arends | Seize The Day & Other Stories | Background Vocals |
| 2000 | Solomon's Wish | A Wise Man's Tragedy | Acoustic Guitar, Dobro |
| 2001 | Greg Long | Now | Producer, Songwriter, Guitars, Background Vocals |
| 2001 | Cindy Morgan | Elementary | Guitars, Background Vocals |
| 2001 | Pete Orta | Born Again | Producer, Songwriter, Electric and Acoustic Guitars, Background Vocals |
| 2001 | Anointed | If We Pray | Songwriter |
| 2002 | Mark Douthit | Groove | Vocals |
| 2002 | Ashley Cleveland | Second Skin | Background Vocals |
| 2003 | Russ Lee | The Second Mile | Guitars, Background Vocals |
| 2011 | Echoing Angels | Echoing Angels | Songwriter, Guitars, Dobro, Mandolin |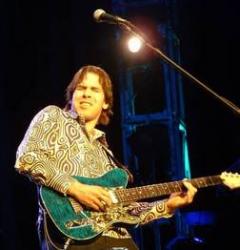 Chris Rodriguez
Chris Rodriguez is an American Contemporary Christian musician and singer/songwriter. Rodriguez was born in Bronx New York, and moved to Nashville, becoming a veteran of the scene in the early 1990s. His debut album, Beggar's Paradise, was released by Word Records in 1999, by which time he had collaborated on projects with country and CCM acts such as Amy Grant, Michael W. Smith, Wynonna Judd, and Shania Twain. He continues to work as a session musician with other artists on the Nashville scene, such as Kenny Rogers, Kenny Loggins, Keith Urban, and Lee Ann Womack. Chris is also the brainchild behind the Nashville based band "The Alternators" that features some of Nashville's best session players that interchange as their schedules allow.
He has two children, Nicole and Andre, and a wife.
Chris was part of Shania Twain's "The Woman in Me" TV tour band 1995-96 performing selected international venues and television shows with other respected musicians Randy Thomas (co-writer of the song "Butterfly Kisses"), Dan Schafer, Russ Taff, Dave Malachowski, Allison Cornell & Will Owsley.
As of 2007 he is touring with Kenny Loggins. From 2005 to 2010, he toured with Keith Urban.
As of 2010 he was touring with Kenny Loggins as well as LeAnn Rimes.
As of 2011 Chris was working with new artist Jessica Ridley
As of 2012 Chris is playing Rhythm Guitar for Faith Hill
As of summer 2012 Chris is touring with Kelly Clarkson
Chris Rodriguez. (2012, August 6). In Wikipedia, The Free Encyclopedia. Retrieved 19:06, November 10, 2012, from http://en.wikipedia.org/w/index.php?title=Chris_Rodriguez&oldid=506142538