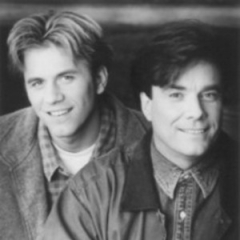 Aaron Jeoffrey
Aaron Jeoffrey was a contemporary Christian music son/father duo that rose to popularity during the 1990s. Father Jeoffrey Benward was already involved in Christian music since the '70s. In the early '90s, upon asking his then teenaged son Aaron what he wanted to do for a living, was surprised to find out that he wanted to follow his path in music.
They decided to begin recording together, and though several labels had problems with the eccentric pairing, Starsong picked them up. They went into the studio and started working on their eponymous debut album which was released in 1995. The album featured guest vocals by dc Talk.
They followed with After the Rain in 1996 and with Climb in 1997. Shortly after, both father and son decided to follow their individual careers. During their career, Aaron Jeoffrey had 14 Top Five radio singles, 9 of which made it to #1. Their albums have sold more than 100,000 units. They were twice nominated for a Dove Award in the "Song of the Year" category for their classic "He Is."