Anointed is listed in the credits for the following albums: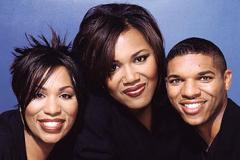 Anointed
Anointed is a Contemporary Christian music group from Columbus, Ohio, formed in 1988 while the members were still attending high school. They are known for their strong vocals and harmonies, featuring siblings Steve Crawford and Da'dra Crawford Greathouse, along with former members Nee-C Walls (who left the group in 2001) and Mary Tiller (who left in 1995). Their music found its way to Gene Eugene, of Lost Dogs fame, who got the teens signed to a record deal with Myrrh Records.
By 1994, Anointed had moved to Nashville Tennessee and their recognition started picking up. The group won seven Dove Awards, two Stellar Awards, and was nominated for three Grammy awards. Anointed released a total of six albums plus a "best of" collection, with the final three albums recorded as a duet with siblings Steve and Da'dra.