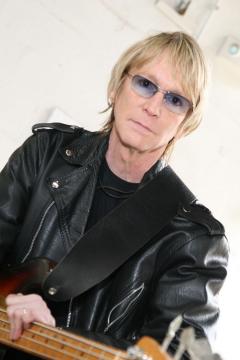 Mike Brignardello
Mike Bignardello has spent most of his adult life in the studios of Nashville playing bass for artists as diverse as Faith Hill, Trace Adkins, Emerson Hart, Amy Grant, Tim McGraw, Peter Cetera, Toby Keith, LeAnn Rimes, Rascal Flatts, Brooks & Dunn, Lynyrd Skynyrd and hundreds of others. Raised in Memphis and stepped in the rich musical tradition of the city he migrated to Nashville in 1983 and began a busy studio career in the Christian market, recording ground breaking records with Amy Grant, Michael W Smith, Stephen Curtis Chapman and others.
In 1988 he moved to Los Angeles and began a five-year stint with the rock band Giant, featuring Dann Huff. Giant released Last of the Runaways in 1989 on A&M records, and Time to Burn on Epic Records in 1992. They toured extensively in Europe and the US and had a top twenty hit with "I'll See You In My Dreams" in 1990.
When Giant disbanded in 1993 Brignardello moved back to Nashville just in time for the explosion in country music. He played bass on dozens of multi-platinum records throughout the '90s, including "Breathe" Faith Hill, "Country Club" Travis Tritt, "Not A Moment Too Soon" Tim McGraw, "I Need You" LeAnn Rimes, "Amazed" Lonestar, and dozens of others. Mike has been able to maintain a varied musical diet by working with Emerson Hart, former front man of Tonic, on "Cigarettes and Gasoline", and Universal Records artist, Safety Suit, one of Nashville's best rock bands.
He manages to stay in touch with his Memphis roots by gigging with his eight-piece soul band, Grooveyard, fronted by John Cowan. In 2008 he reunited with Amy Grant for the 'Lead Me On 2008' tour, which led to the opportunity to co-produce and play bass on several songs on Grant's latest record, Somewhere Down the Road, released in 2010 on EMI. In 2010 Mike and founding Giant member drummer David Huff re-formed the band Giant and released "Promise Land" on Italy's Frontiers Records. The 13 song CD included two videos, one for the single "Promise Land", and a making-of video diary. The new line up features Terry Brock (Strangeways) on vocals and John Roth (Winger) on guitars and vocals.
"Making this record was exhilarating" he said from his home studio where much of the record was made. "I love that style of melodic hard rock; I like the swagger."
The CD received excellent response so the possibility remains for another. Brignardello remains in the thick of the Nashville studio scene, playing bass on records by Darius Rucker, Blake Shelton, Ronnie Dunn, Luke Bryan and many others. In between sessions Brignardello spent much of 2014 touring with Amy Grant, Vince Gill and Trace Adkins.
Mike Brignardello. (n.d.). Retrieved July 9, 2016, from D'Addario website: http://www.daddario.com/DaddarioArtistDetails.Page?ActiveID=3777&ArtistId=42756