| Year | Artist | Album | Role |
| --- | --- | --- | --- |
| 1982 | Daniel Amos | Doppelganger | Engineer, Background Vocals |
| 1983 | Randy Stonehill | Equator | Electric Rhythm Guitar |
| 1984 | Undercover | Boys and Girls Renounce the World! | Mixed |
| 1984 | Evie | Christmas A Happy Time | Engineer |
| 1984 | Altar Boys | Altar Boys | Engineer |
| 1985 | Lifters | What Love's All About | Engineered, Mixed |
| 1985 | Crumbacher | Incandescent | Engineer |
| 1985 | The Choir | Voices in Shadows | Songwriter, Guitar |
| 1985 | Altar Boys | When You're A Rebel | Engineer |
| 1986 | The Choir | Diamonds and Rain | Songwriter |
| 1986 | The Choir | Shades of Gray | Producer, Songwriter, Guitars, Acoustic Piano, Lead Vocals |
| 1987 | The Choir | Chase the Kangaroo | Producer, Engineer, Songwriter, Guitars, Keyboards, Lead Vocals |
| 1988 | Phil Keaggy | Phil Keaggy & Sunday's Child | Vocals |
| 1989 | Veil of Ashes | Pain | Background Vocals |
| 1989 | Undercover | Volume 2 | Mixed |
| 1989 | Randy Stonehill | Return to Paradise | Engineer |
| 1989 | The Choir | Wide-Eyed Wonder | Producer, Songwriter |
| 1990 | The Choir | Circle Slide | Producer, Songwriter |
| 1991 | Ric Alba | Holes in the Floor of Heaven | Executive Producer, Engineer, Acoustic Guitar, Dulcimer |
| 1991 | Julie Miller | He Walks Through Walls | Background Vocals |
| 1991 | Various Artists | At the Foot of the Cross -Volume 1- Clouds, Rain, Fire | Producer, Songwriter, Guitar, Vocals |
| 1992 | Plague of Ethyls | Plague of Ethyls | Engineer, Mixed |
| 1992 | Michael Knott | Screaming Brittle Siren | Mixed |
| 1992 | L.S.U. | Grape Prophet, The | Mixed |
| 1992 | Lost Dogs | Scenic Routes | Producer, Engineer, Songwriter, Guitars, Vocals |
| 1992 | John Austin | Embarrassing Young, The | Guitar |
| 1992 | The Choir | At the Foot of the Cross | Producer, Songwriter, Engineer, Mixed, Keyboards, Bas, Guitars, Dulcimer, Vocals |
| 1992 | The Prayer Chain | Whirlpool EP | Engineer |
| 1993 | Poor Old Lu | Mindsize | Recorded, Mixed, Background Vocals |
| 1993 | Various Artists | Brow Beat Unplugged Alternative | Guitar, Bass, Vocals |
| 1993 | Randy Stonehill | Stories | Background Vocals |
| 1993 | Lost Dogs | Little Red Riding Hood | Producer, Songwriter, Guitars, Bass, Vocals |
| 1993 | Mark Heard | High Noon | Acoustic Guitar, Bass |
| 1993 | Julie Miller | Orphans And Angels | Background Vocals |
| 1993 | The Choir | Kissers and Killers | Producer, Engineer, Mixed, Songwriter, Guitars, Lead Vocals |
| 1993 | The Prayer Chain | Shawl | Recorded |
| 1995 | Phil Keaggy | Time 2 | Background Vocals |
| 1995 | Phil Keaggy | Time 1 | Background Vocals |
| 1995 | The Choir | Speckled Bird | Producer, Recorded, Mixed, Songwriter, Lead Guitar, Vocals |
| 1996 | Common Children | Skywire | Engineer, Mixed |
| 1996 | Lost Dogs | Green Room Serenade, Part One | Producer, Songwriter, Guitars, Bass, Vocals |
| 1996 | The Choir | Free Flying Soul | Producer, Songwriter, Engineer, Mixed, Guitars, Vocals |
| 1997 | Common Children | Delicate Fade | Engineer, Mixed, Acoustic Guitar, Background Vocals |
| 1997 | Terry Scott Taylor | Ten-Gallon Hat | Guitars |
| 1997 | The Choir | Let It Fly | Mixed, Songwriter, Guitar, Vocals |
| 1997 | The Waiting | The Waiting | Engineer |
| 1998 | Terry Scott Taylor | John Wayne | Guitars |
| 1998 | Polarboy | Back From Nowhere | Producer, Mixed |
| 1999 | Lost Dogs | Gift Horse | Producer, Guitars, Bass, Mandolins, Vocals |
| 1999 | Lost Dogs | Best Of The Lost Dogs | Producer, Songwriter, Guitars, Bass, Vocals |
| 1999 | Broomtree | Transparent | Engineer |
| 2000 | Various Artists | When Worlds Collide: A Tribute to Daniel Amos | Mixed |
| 2000 | Smalltown Poets | Third Verse | Songwriter |
| 2001 | Lost Dogs | Real Men Cry | Engineer, Guitars, Vocals |
| 2001 | Adam Again | Live at Cornerstone 2000 | Vocals |
| 2001 | Caedmon's Call | In the Company of Angels | Recorded, Mando Guitar |
| 2002 | Sheila Walsh | The Hymns Collection | Producer, Engineer |
| 2002 | Lost Dogs | Green Room Serenade, Part Tour | Mixed, Guitars, Vocals |
| 2003 | Lost Dogs | Nazarene Crying Towel | Songwriter, Guitars, Vocals |
| 2007 | Swirling Eddies | The Midget, The Speck, and The Molecule | Engineered, Mixed, Guitars, Vocals |
| 2012 | Terry Scott Taylor | Return to the Neverhood | Engineered, Mixed |
| 2013 | Daniel Amos | Dig Here Said the Angel | Engineer, Mixed |
| 2013 | One: A Worship Collective | We Believe (Live) | Additional Engineer |
| 2016 | Geoff Moore | The Next Thing | Assistant Engineer, Vocals |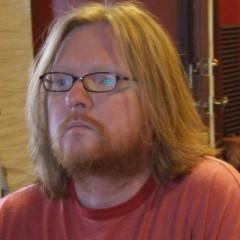 Derri Daugherty
Derri Daugherty is an American record producer, songwriter, guitarist, and singer, best known as the lead singer and guitarist for band the Choir.
Daugherty is also one of the founding members of the Roots music supergroup Lost Dogs with Terry Scott Taylor, Michael Roe, and Gene Eugene.
Daugherty began his musical career as an engineer and roadie for the band Daniel Amos. Their bassist, Tim Chandler, introduced Daugherty to Steve Hindalong and the two soon began to write songs together and eventually formed the Choir. Daugherty now owns and operates Neverland, a recording studio in Nashville, Tennessee.
Daugherty's engineering credits include albums for Randy Stonehill, The Swoon, Lifesavers Underground, Michael Knott, the Prayer Chain, Riki Michele, the Waiting, Sarah Masen, Pierce Pettis, Common Children, Jeff Johnson, Caedmon's Call, Buddy Miller, Julie Miller, the Throes, and others. In recent years, Daugherty has become an accomplished producer, with albums by Twila Paris and Sheila Walsh to his credit. Perhaps his most well-known production work is with Hindalong on the City on a Hill series.
Wikipedia contributors. (2020, July 30). Derri Daugherty. In Wikipedia, The Free Encyclopedia. Retrieved 13:17, September 9, 2020, from https://en.wikipedia.org/w/index.php?title=Derri_Daugherty&oldid=970304569