No albums list this artist in credits. You are able to edit albums and add credit info if you have created an account.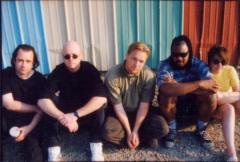 Adam Again
Adam Again was a rock band founded and led by vocalist Gene Eugene, with Riki Michele on vocals, Paul Valadez on bass, Jon Knox on drums, Greg Lawless on guitar. Dan Michaels often played saxophone. 
Gene Eugene's mystical voice—often mistaken for R.E.M.'s Michael Stipe—remained the least-changing element in a band that Thom Jurek of allmusic has described as "inventive and artfully canny." Adam Again's style was rock and acoustic with strong hints of funk and traces of soul running throughout. The band never achieved commercial viability and quit touring and recording together in 2000 after Eugene died in his recording studio, the "fabulous" Green Room.