No albums list this artist in credits. You are able to edit albums and add credit info if you have created an account.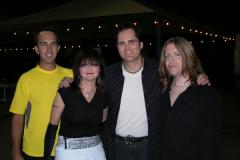 Crumbacher
Crumbächer was an American Christian new wave and synthpop band in the 1980s, headed by Stephen Crumbächer.
After five years of friendship, Stephen Crumbächer, Dawn Wisner and Jim Wisner played their first performance as Crumbächer at a New Year's Eve show in 1983. The following summer, the band entered the studio for the first time to begin recording a six-song EP for Calvary Chapel's MRC label with Ojo Taylor of Undercover producing and Derri Daugherty of The Choir engineering. Once the label heard the early results, they requested that the band record a few additional songs so that it could be released as a full length album, instead of an EP. The album, Incandescent, was released in April 1985 on Broken Records.
The band signed with the newly formed Frontline Records and began work on their second album, the self produced Escape from the Fallen Planet which was released in 1986. The following year, the band returned with Thunder Beach, produced by Bill Baumgart. In 1988, the band recorded their final album together entitled, Tame the Volcano.
In the years that followed, Stephen Crumbächer teamed up with Christopher Duke for the Worlds Away project, credited to Crumbächer-Duke. Stephen himself recorded one solo album in 1991, Take It In.
The band reunited in Irvine, California on August 19, 2005 as part of the Broken Records Reunion Concert, with The Choir and other artists.
Websites:
External links are provided for reference purposes. Christian Music Archive is not responsible for the content of external internet sites.