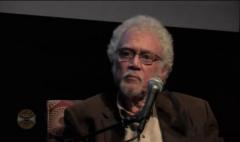 D. Bergen White
Although best known for a long and successful career as a Nashville arranger, Bergen White also recorded one of the Holy Grails of soft pop: 1970's lush, melancholy For Women Only, a minor classic of its genre. According to Steve Stanley's comprehensive liner notes published in Rev-Ola's 2004 reissue of For Women Only, White was born in Miami, OK, in 1939, the son of a Baptist minister who regularly moved his family from city to city throughout the southern half of the U.S. The Whites finally settled in Nashville when Bergen was 14; there he befriended fellow music fans Bobby Russell and Buzz Cason, with whom he later recorded a single credited to the Todds. After college, White taught math and science for two years before Russell persuaded him to resume their musical collaboration, this time as staff vocalists with Bill Beasley's sound-alike label Hit Records, an imprint infamous for cutting carbon-copy knockoffs of chart hits that were commonly sold in supermarkets and priced to move. Hit not only offered White an opportunity to hone his vocal skills, but he was also allowed to compose original material for release via the B-sides of the label's singles.
In time, White was taken under the wing of Nashville producer Bill Justis and offered the chance to begin arranging recording sessions. He also joined the Justis-sponsored hot rod group Ronny & the Daytonas as a vocalist -- best known for their pop smash "G.T.O.," the band's ranks later included White's old schoolmate Buzz Cason as well. With a growing number of session dates now under his belt, in 1967 White signed to Monument to record his first solo single, "If It's Not Asking Too Much" -- an exquisitely melancholy slice of string-sweetened pop, the record earned little commercial attention, and its creator resumed his work behind the scenes. In 1969 he agreed to record a full-length LP for Shelby Singleton's SSS label, enlisting the assistance of noted session guitarist and engineer Wayne Moss, owner of Nashville's legendary Cinderella Studio. The resulting For Women Only appeared the following year -- an ornate and elegant work of richly detailed harmony pop, both the album and its lead single, "It's Over Now," failed to chart. After issuing a gospel-influenced non-LP single titled "Spread the Word," SSS terminated White's contract.
Even as his recording career faltered, however, White's session career was reaching critical mass -- his work on Tony Joe White's 1969 Top Ten hit "Polk Salad Annie" brought him to the attention of no less than Elvis Presley, who wanted Bergen to arrange a version of the song for him to perform in his Las Vegas show. He went on to arrange several Presley sessions in the years to follow, on occasion contributing backing vocals as a substitute Jordanaire -- White's résumé would later include country luminaries such as Dolly Parton, Ronnie Milsap, the Statler Brothers, the Oak Ridge Boys, Alabama, Garth Brooks, Faith Hill, and Tim McGraw. In the meantime, in 1975 he signed to the Private Stock label, issuing a cover of the Del Vikings classic "Come Go with Me," soon followed by the David Gates-penned "Have You Taken a Good Look Lately." White's third effort for the label, a rendition of the Gene Chandler perennial "Duke of Earl," began to accrue some commercial momentum, but touring behind the single would have forced him to turn down some studio projects -- when he balked at hitting the road, Private Stock cut its promotional funding, and for all intents and purposes his pop career was over. In 1980 White did release a gospel LP, Praise the Lord -- in 1998, he also resurfaced with a seasonal effort credited to the Bergen White Christmas Singers.
Ankeny, J. (n.d.). Bergen White: Biography. Retrieved March 10, 2012, from MSN Entertainment website: http://music.msn.com/music/artist-biography/bergen-white/