| Year | Artist | Album | Role |
| --- | --- | --- | --- |
| 1976 | Daniel Amos | Daniel Amos | Songwriter, Guitars, Vocals |
| 1977 | Daniel Amos | Shotgun Angel | Songwriter, Guitars, Vocals |
| 1978 | Karen Lafferty | Sweet Communion | Background Vocals |
| 1978 | Isaac Air Freight | Fun In The Son | Guitars |
| 1981 | Tom Howard | Danger in Loving You | Background Vocals |
| 1981 | Randy Stonehill | Between the Glory and the Flame | Guitars, Background Vocals |
| 1981 | Daniel Amos | Horrendous Disc | Songwriter, Guitars, Vocals |
| 1981 | Daniel Amos | ¡Alarma! | Songwriter, Guitars, Percussion, Background Vocals |
| 1982 | Daniel Amos | Doppelganger | Producer, Songwriter, Guitars, Percussion, Vocals |
| 1983 | Lifesavors | Dream Life | Background Vocals |
| 1983 | Randy Stonehill | Equator | Lead Guitar, Handclaps, Choir and Background Vocals |
| 1985 | Tom Howard & Bill Batstone | One by One | Guitar Synthesizer |
| 1986 | Common Bond | Heaven Is Calling | Guitars, Background Vocals |
| 1986 | Randy Stonehill | The Wild Frontier | Electric Guitars, Background Vocals |
| 1986 | Daniel Amos | The Revelation | Songwriter, Guitars, Vocals |
| 1986 | Daniel Amos | Fearful Symmetry | Narrator, Background Vocals |
| 1986 | The Choir | Shades of Gray | Additional Vocals |
| 1987 | Terry Scott Taylor | A Briefing for the Ascent | Background Vocals |
| 1987 | The Choir | Chase the Kangaroo | Background Vocals |
| 1988 | Swirling Eddies | Let's Spin | Electric Guitars, Background Vocals |
| 1989 | Swirling Eddies | Outdoor Elvis | Songwriter, Electric Guitars, Background Vocals |
| 1990 | Randy Stonehill | Until We Have Wings | Background Vocals |
| 1990 | Terry Scott Taylor | Dr. Edward Daniel Taylor: The Miracle Faith Telethon | Songwriter, Guitars, Vocals |
| 1990 | Mark Heard | Dry Bones Dance | Background Vocals |
| 1990 | Daniel Amos | Live Bootleg '82 | Songwriter, Guitars, Vocals |
| 1991 | Various Artists | At the Foot of the Cross -Volume 1- Clouds, Rain, Fire | Vocals |
| 1992 | Deliverance | Stay of Execution | Songwriter, Background Vocals |
| 1992 | Randy Stonehill | Wonderama | Background Vocals |
| 1992 | The Choir | At the Foot of the Cross | Vocals |
| 1993 | Various Artists | Brow Beat Unplugged Alternative | Background Vocals |
| 1993 | Lost Dogs | Little Red Riding Hood | Background Vocals |
| 1993 | Mark Heard | High Noon | Background Vocals |
| 1993 | Daniel Amos | Motorcycle | Producer, Songwriter, Guitars, Electric Sitar, Lap Steel, Percussion, Vocals |
| 1994 | Swirling Eddies | Zoom Daddy | Songwriter, Lead Guitars |
| 1994 | Randy Stonehill | Lazarus Heart | Background Vocals |
| 1994 | Daniel Amos | Preachers from Outerspace | Songwriter, Guitars, Vocals |
| 1994 | Daniel Amos | BibleLand | Guitars |
| 1995 | Swirling Eddies | The Berry Vest of the Swirling Eddies | Songwriter, Electric Guitars, Background Vocals |
| 1995 | Daniel Amos | Songs of the Heart | Guitars |
| 1995 | The Choir | Speckled Bird | Backing Vocals |
| 1996 | Common Children | Skywire | Background Vocals |
| 1996 | Swirling Eddies | Sacred Cows | Guitars, Vocals |
| 1996 | The Choir | Free Flying Soul | Vocals |
| 1998 | Daniel Amos | Our Personal Favorite World Famous Hits | Producer, Songwriter, Guitars, Vocals |
| 1999 | Lost Dogs | Best Of The Lost Dogs | Background Vocals |
| 2000 | Deliverance | Classic Archives (What a Joke / Stay of Execution) | Songwriter, Background Vocals |
| 2001 | Daniel Amos | When Everyone Wore Hats | Guitar |
| 2007 | Swirling Eddies | The Midget, The Speck, and The Molecule | Guitars, Vocals |
| 2011 | Daniel Amos | Shotgun Angel - reissue | Songwriter, Guitars, Vocals |
| 2013 | Daniel Amos | Dig Here Said the Angel | Songwriter, Guitar, Lead vocals, Backing vocals, Sunshine Street Choir |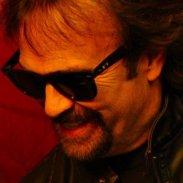 Jerry Chamberlain
Jerry Chamberlain (born Gerald Parker Chamberlain, February 25, 1952, Inglewood, California), is a singer, songwriter, guitarist, and producer, best known for his work with the rock bands Daniel Amos and The Swirling Eddies (credited as "Spot").
In late 1974, Chamberlain was asked to join Jubal's Last Band, a band that consisted of Terry Scott Taylor, Steve Baxter and bassist Kenny Paxton. Marty Dieckmeyer was soon brought in as a replacement for the departing Paxton. Sometime in the middle of 1975, Jubal's Last Band or Jubal (as a shortened form of the name was briefly used) auditioned for Maranatha! Music and Calvary Chapel (without Baxter, who couldn't get off work) in hopes of signing a recording and performance contract. At a Maranatha Music meeting, another band led by Darrell Mansfield, was also using the name, Jubal. The two bands decided to change their names to avoid confusion. Mansfield renamed his band Gentle Faith, and Jubal's Last Band/Jubal became Daniel Amos.
Daniel Amos succeeded in landing a recording and performance contract, and quickly recorded their first song for the label, Taylor's "Ain't Gonna Fight It" for the Maranatha 5 compilation. A full album, produced by Al Perkins, followed. Chamberlain quickly became an important part in the sound of D.A. In the band's early days of country/rock, Chamberlain would often launch into a rock and roll guitar solo inappropriately in the middle of "Happily Married Man." In the later years, his guitar playing drove songs like "Endless Summer" and "I Love You #19."
Although Chamberlain left DA in late 1983, he did return on a few later albums including Motor Cycle (1993) (which he co-produced), BibleLand (1994) and Songs of the Heart (1995).
Chamberlain was married to singer/songwriter/guitarist/bassist Sharon McCall from 1980 to 2005. The couple had a band together in the mid-1980s called Boy-O-Boy, shopping demos and playing clubs of L.A.
In 2001, Chamberlain and McCall recorded a song ("Message From The Country") with pop rocker Doug Powell (Swag), drumlord Ken Coomer (Wilco, Uncle Tupelo, Swag) and session ace Jonathan Yudkin (The Chain Smoking Altar Boys) for the Jeff Lynne tribute Lynne Me Your Ears (2002) under the moniker, The Balls of France.
The years 2004–2005 saw Chamberlain and McCall join forces with friends to form an all-British Invasion outfit called The Pickled Beats. The band continues, with slight lineup changes, to play the occasional live performance.
In 2006, Chamberlain once again joined forces with Terry Taylor by lending a hand on the Lost Dogs album The Lost Cabin and the Mystery Trees. Chamberlain also returned to his Swirling Eddies pseudonym "Spot," for the 2007 release The midget, the speck and the molecule.
After meeting and doing gigs together over 30 years ago in California, Chamberlain and veteran folk-pop-rock singer-songwriter/record producer/musician/vocalist Pam Mark Hall joined forces as the duo, Pamelita and Parker, in the Fall of 2008.
Jerry Chamberlain. (2011, April 14). In Wikipedia, The Free Encyclopedia. Retrieved 17:28, July 14, 2011, from http://en.wikipedia.org/w/index.php?title=Jerry_Chamberlain&oldid=424031602.