White Heart is listed in the credits for the following albums: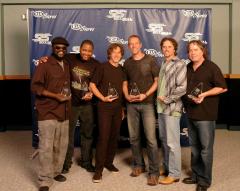 White Heart
White Heart, also listed as Whiteheart, is a Contemporary Christian Music pop-rock band which formed in 1982. White Heart's discography includes thirteen albums, the most recent of which was released in 1997. Original members Billy Smiley and Mark Gersmehl worked with a continually-changing cast of band-mates. In 1985, former roadie Rick Florian became the lead singer.
Although White Heart has not officially "retired" as a band, remaining members Smiley, Gersmehl and Florian are each pursuing other interests. Smiley started his own label, Cul-de-Sac Records. Gersmehl continues to write music and has released solo efforts. Florian is a real estate agent in the Franklin, Tennessee area and also continues to sing for various recording projects.
Formation
White Heart formed in 1982 with most of its members coming from Bill Gaither's group. The original line-up consisted of Billy Smiley (guitar), Mark Gersmehl (keyboards & occasional lead vocals), Steve Green (vocals), Gary Lunn (bass), and brothers Dann and David Huff (guitars/vocals & drums respectively).
Whiteheart was turned down by every major Christian label until Chris Christian heard their demo and signed them to Home Sweet Home Records and gave them their first record deal. By the time they released their third album on Home Sweet Home Records, they were selling in excess of 250,000 albums. After their self-titled debut album was released in 1982, the band suffered its first line-up change. Green left the band, saying that rock was not his style. He moved quickly into a successful career as an adult contemporary singer. Green was replaced by Scott Douglas.
The band released its second album, Vital Signs, in 1984. Dann Huff left the band shortly afterward and recommended his high school friend, Gordon Kennedy as his replacement and Scott Douglas was added as Huff's replacement as lead vocalist. Douglas was with the band for only a year before being charged with aggravated sexual battery on June 30, 1985. He was sentenced to prison in March 1986.
After White Heart released its third album, Hotline, in 1985, David Huff left the band to pursue other interests, including studio work and touring with Michael W. Smith. Eventually he would join his brother Dann to form the hard rock band Giant.
Rick Florian becomes lead singer
The remaining band members began to audition singers. In 1985, they were surprised when they heard their bus driver and roadie, Rick Florian, dancing around the stage and singing along to their songs. They auditioned him, and he was chosen as Douglas' replacement. Florian became a core member of the band and continued through the rest of White Heart's discography. Chris McHugh was also picked up to fill the drummer seat.
White Heart's 1986 release, Don't Wait for the Movie, was criticized for its gimmicky songwriting and lack of originality. Despite the criticism, the band kept on touring and recording. In the meantime, Gary Lunn left the band to become a studio musician, and was replaced with Tommy Sims.
After Emergency Broadcast was released in 1987, White Heart made an important change—but it wasn't precisely in the band's line-up. Brown Bannister came on board as producer for their next album. Bannister is known for working with artists like Petra and Amy Grant.
The band's next album, 1989's Freedom, featured a more original approach and has been hailed as one of White Heart's best. But stability remained elusive. The band reached the end of its contract with Sparrow Records and Brown Bannister. Also, Chris McHugh,Gordon Kennedy, and Tommy Sims left the band to become studio musicians and producers.
The Star Song era
White Heart signed on with Star Song Records, and hired Brian Wooten (guitars), Anthony Sallee (bass), and Mark Nemer (drums) to fill the spots. With these pieces in place, the band released one of its best-known albums, Powerhouse, in 1990. Nemer left soon after and the band brought back former drummer Chris McHugh to do some studio work for their next album.
The band released Tales of Wonder in 1992, and announced Jon Knox as their new drummer. This album is considered the band's most popular, filled with thought-provoking lyrics and deeper songwriting.
White Heart followed this success with Highlands in 1993, which also received critical praise. The influence of 1970s rock groups like Kansas could be felt throughout, interwoven with Celtic themes, including the cover art. Anthony Sallee left the band and John Thornwas hired to replace him for the Highlands Tour.
In 1994, the band released two compilation albums: Nothing But the Best: Rock Classics and Radio Classics, which included some new material. These compilations marked the end of the band's contract with Star Song.
The last years
White Heart signed with a mainstream label, Curb Records, as Curb's first foray into the Christian Music contemporary rock market. The band released Inside in 1995 and stylized their name as "Whiteheart". The album had mixed reviews from the Christian market, but was quite successful on the Christian radio charts and yielded several No. 1 singles in the Christian Radio Market: "Inside" and "Even the Hardest Heart". This album was notably produced and mixed by the legendary Ken Scott (Supertramp, Elton John, David Bowie). This record marked an edgier sound, and was also the band's launch through the newly created and now-defunct Warner Christian Distribution. The band's lineup continued to be a revolving door. Brian Wooten, John Thorn and Jon Knox all left to pursue other projects.
The remaining core members (Smiley, Gersmehl, Florian) regrouped to consider the band's future. They released their final album, Redemption, in 1997 using studio musicians. It received critical praise for its depth and musical maturity.
After Redemption, Smiley, Gersmehl and Florian entered what they called "a dormant stage". They have not officially broken up White Heart, but each of them is working on separate personal projects. Florian issued a statement in 1999 regarding the future of the band.
On August 25, 2006, White Heart received a Soul2Soul Honor award in New Albany, Indiana. Billy Smiley, Rick Florian, Mark Gersmehl, Tommy Sims, Jon Knox and Gordon Kennedy reunited to perform "Over Me" and "Sing Your Freedom". According to Florian, it was the first time in 17 years that particular combination of musicians had performed together, although Knox had never actually been in the band at the same time as Sims or Kennedy.
In May 2010, Rick Florian announced that a one-off benefit concert would be performed by the band featuring the line up from the Freedom album: Rick, Mark Gersmehl, Billy Smiley, Gordon Kennedy, Tommy Sims and Chris McHugh. The show was scheduled to take place in Franklin, Tennessee at Christ Community Church on August 7, 2010 as a benefit for Rick's family's recent international adoption, as well as Rick's church's adoption and foster care ministry. In mid-June, it was announced that the benefit concert had to be postponed due to a schedule conflict. As of January 2011, no new date had been set.
In July 2013 the band announced on their Facebook page that they would be recording a new EP, and doing a 12-city tour of the US in the first half of 2014. Their first concert will be at Easterfest in Toowoomba, Australia on April 19, 2014.
Honors
Although White Heart is considered one of the premier bands to ever play Contemporary Christian Music, and despite the many No. 1 hits and albums, they have never won a Dove Award. White Heart was inducted into the Christian Music Hall of Fame on November 6, 2010.
White Heart. (2014, June 20). In Wikipedia, The Free Encyclopedia. Retrieved 12:44, July 1, 2014, from http://en.wikipedia.org/w/index.php?title=White_Heart&oldid=613705040