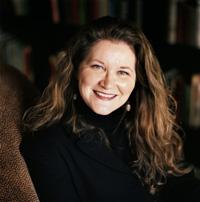 Beverly Darnall
I was born on a December day in the Western Baptist Hospital in Paducah, Kentucky. I didn't enter the world alone. My brother Brian preceded me by just five minutes. It so happened that we were the first twins born in that hospital, and I have the newspaper clippings to prove it. My mother looks happy there in the hospital bed, holding one of us in each arm. When I asked her a couple of years ago how that could be—she had five other children at home—she said she was happy. She'd never had twins before.
So there you go. Big family, lots of fun, some trouble, some bad times, lots of love, like all other families. We moved from Kentucky back to Alabama, and then to Ohio when I was nine, because my mother, who worked for the Air Force, got a promotion and a new job up north. After high school, I went back to Alabama to go to college, but after a year and a half I got sidetracked by the chance to join a traveling music group and hit the road. After three years and hundreds of concerts in churches and schools, I got married and finished my degree in Nashville, at Belmont College, majoring in math and minoring in music business. I started working as a studio singer, and then as a vocal contractor for record producers.
That led to songwriting, and eventually songwriting led to producing a demo or two, and then to a great job producing touring shows, Amy Grant's pop tour, then her big tour with the Nashville Symphony Orchestra. We took 100 musicians and crew on buses, trucks and planes all over the country, for all of several Decembers, playing arenas coast to coast and having a ball. One year I had the luck to put together Michael W. Smith's Christmas tour, one of my favorite creative experiences.
Along the way, I wrote several musical dramas for print music companies who market mostly to churches, and I owned a company for a while that created audio product (songs and stories) for little kids. And I kept writing songs. My music business education had convinced me that I should own my own music company to publish my songs when that was possible. I started Annie Merle Music, and learned every little thing about licensing and royalties from the ground up, because I did it myself.
I still write songs and I have had some wonderful luck in that area. I have written with amazingly talented writers, like Amy and Michael, Keith Thomas, Tommy Sims, and most recently with Vince Gill. Last year Eric Clapton recorded a song Vince and I wrote and this year Vince is going to release two of our songs on his own project. It just doesn't get any better than that for a songwriter.
A few years ago I was hired to be the Executive Director of Chartwell Literary Group, a new firm that was created to manage literary projects, everything from research to editing, writing to contract review. It was in this role that I put together a proposal for the book, Laura's List, built around the First Lady's recommended reading list. It was met with enthusiasm by the first editor I sent it to at Penguin in New York, and before I knew it, I was hard at work at yet another brand new venture for me. It was released in May 2006, and I was given plenty of great opportunities to promote it and the idea behind it: "Use this reliable list from a trusted source to encourage your children to read. Then use the guides that I include in the book to start some interesting talks with your family. Reading is fun, inexpensive, and the best lifetime gift you can give a child."
A few years ago I married Stephen Mansfield, and we share a life full of great work and a fair amount of fun. We live in downtown Nashville, enjoying our days as true city dwellers. I have a son, Isaac, who graduated from university in 2007, and is a photographer and writer. Stephen has two children, Jonathan, who is 23, and Elizabeth, a fabulous 19-year-old. The adventure continues!
Darnall, B. (2006). Beverly Darnall Bio. Retrieved July 7, 2011, from Beverly Darnall website: http://www.beverlydarnall.com/bio.html
Websites:
External links are provided for reference purposes. Christian Music Archive is not responsible for the content of external internet sites.