Lari Goss is listed in the credits for the following albums: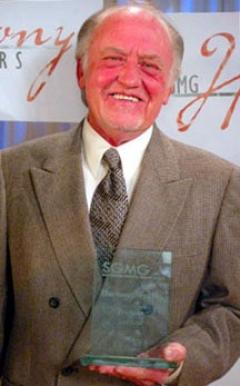 Lari Goss
Lari Goss (February 19, 1945 - January 10, 2015) is best known within the Christian music industry in the areas of music production, orchestral arranging and keyboard artistry. He has produced critically acclaimed projects for such artists as The Brooklyn Tabernacle Choir, The Cathedrals, Signature Sound, Anthony Burger, Greater Vision, Christ Church, The Martins, Larnelle Harris, Phil Driscoll, Brenda Lee, Legacy Five, The Hoppers, The Gaither Vocal Band, Janet Paschal, and many others.
Along with Lari's impressive list of production credits, he is equally recognized on both sides of the industry for his signature orchestral arrangements. He has orchestrated music for such secular music giants as Warner Bros., Capitol, RCA, Columbia; and such artist names as Glen Campbell, Ray Price, B.J. Thomas and the Atlanta Rhythm Section. His arrangements have been heard in countless venues around the world, from the stage of Radio City Music Hall to the Tonight Show. Additionally, Lari has arranged and conducted music for such prestigious entities as the Grammy Awards, the Peoples Choice Awards, and world famous London Philharmonic Symphony, with whom he has recorded several award-winning albums.
Whether arranging for ten or 100 pieces, his music is consistently noted by the dimension of unparalleled quality, undergirding power and heartwarming richness it lends alongside the other musical components of a project. When music to stir the heart and emotions of the listener is the requirement, Lari is widely recognized as the arranger of choice.
In addition to being one of gospel music's most respected producers and arrangers, Lari also is an accomplished artist in his own right. He has recorded several successful piano/keyboard albums and has written scores of songs, including the widely performed and recorded "Cornerstone". His keyboard style is distinctive and unique and his "Goss Sound" is legendary in the recording industry.
Besides his musical vocation, Lari also uses his industry networking for philanthropic purposes hosting the Lari Goss Invitational, a charity golf tournament that in previous years has benefited the Tennessee Baptist Children's Home.
The notoriety he has received from his keyboard artistry as well as his producer/arranger credentials have developed into an ever-increasing demand across the United States for Lari's involvement as a speaker/teacher at various music symposiums and seminars. He is an Artist-in-Residence at Lee University in Cleveland, Tennessee, where he teaches graduate level courses one day a week in Orchestration and Recording Studio Accompanying.
Lari received a Grammy Award in 2000 and 15 Dove Awards along with numerous SGMA awards He was inducted into the Gospel Music Hall of Fame in 2009 and also received several Lifetime Achievement Awards. .
Lari lost his battle with cancer and passed away on January 10, 2015.
Lari Goss Biography. (n.d.). Retrieved January 14, 2015, from Lari Goss website: http://larigoss.homestead.com/Biography.html
Websites:
External links are provided for reference purposes. Christian Music Archive is not responsible for the content of external internet sites.