No albums list this artist in credits. You are able to edit albums and add credit info if you have created an account.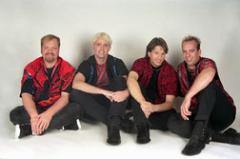 ApologetiX
ApologetiX is a Christian parody band from Pittsburgh, Pennsylvania, USA. The band was founded in 1992, and since then, has released 17 studio albums. ApologetiX gets their name from the word "apologetics," which is a defense of the Christian faith. Apologetix rewrites secular songs with Christian lyrics to create parodies with Christian messages.
In their song "We're In A Parody Band," ApologetiX refers to itself as a cross between "Weird Al" Yankovic and Billy Graham. According to the band's website, Weird Al himself has told them he thinks they do "fabulous work."  Some of their parodies include "Micah No. 5" (Mambo No. 5 by Lou Bega) "Lazy Brain" (Crazy Train by Ozzy Osbourne), "Hotel Can't Afford Ya" ("Hotel California" by The Eagles), "Corinthians" (based on "In the End" by Linkin Park), "Look Yourself" ("Lose Yourself" by Eminem), "Smooth Grandmama" (based on the Alien Ant Farm cover version of "Smooth Criminal" by Michael Jackson), "Smells Like Thirtysomething Spirit" ("Smells Like Teen Spirit" by Nirvana), "The Sounds of Silas" ("The Sounds of Silence" by Simon & Garfunkel), and "Bethlehemian Rhapsody" ("Bohemian Rhapsody" by Queen).
ApologetiX. (2012, January 9). In Wikipedia, The Free Encyclopedia. Retrieved 13:35, January 20, 2012, from http://en.wikipedia.org/w/index.php?title=ApologetiX&oldid=466576560
Websites:
External links are provided for reference purposes. Christian Music Archive is not responsible for the content of external internet sites.