| Year | Artist | Album | Role |
| --- | --- | --- | --- |
| 1990 | Bruce Carroll | Great Exchange | Guitars |
| 1990 | Buddy Greene | Sojourner's Song | Electric Guitar |
| 1991 | Ashley Cleveland | Big Town | Songwriter, Guitars |
| 1991 | David Mullen | Faded Blues | Electric Guitar |
| 1992 | Rick Cua | The Way Love Is | Guitars |
| 1993 | Ashley Cleveland | Bus Named Desire | Producer, Songwriter, Guitars |
| 1994 | Charlie Peacock | Everything That's on My Mind | Guitar Solo |
| 1994 | Amy Grant | House of Love | Songwriter, Guitars |
| 1995 | Ashley Cleveland | Lesson of Love | Producer, Songwriter, Guitars, Mandolin, Drum Programming |
| 1995 | Newsboys | Going Public | Guitar |
| 1996 | Steven Curtis Chapman | Signs of Life | Electric Guitar |
| 1997 | Bruce Carroll | For The Record | Guitars |
| 1997 | Amy Grant | Behind the Eyes | Guitars |
| 1998 | Ashley Cleveland | You Are There | Producer, Songwriter, Guitars, Background Vocals |
| 1999 | Charlie Peacock | Kingdom Come | Guitars |
| 2002 | Nicole C. Mullen | Christmas in Black and White | Guitars |
| 2002 | Ashley Cleveland | Second Skin | Producer, Songwriter, Guitars, Bass, Keyboards, Programming |
| 2005 | Ashley Cleveland | Men and Angels Say | Producer, Guitars |
| 2005 | Matthew West | History | Producer |
| 2012 | Ashley Cleveland | Beauty in the Curve | Producer, Songwriter, Arrangements, Electric Guitar, Bass, Pedal Steel |
| 2017 | Ashley Cleveland | One More Song | Additional Engineer, Mixed, Electric Guitar |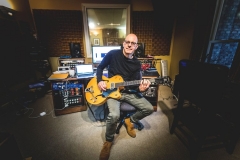 Kenny Greenberg
Kenny Greenberg is a guitar player, producer, and songwriter based in Nashville, Tennessee. Kenny is most known for bringing a rock-and-roll sensibility to Nashville recording sessions, a three-time Grammy award winner, and 2012 Academy of Country Music Guitarist of the Year.
Growing up in Cleveland, OH, Kenny moved to Nashville at the age of 21 to play guitar. Since that time, he has worked with many of the country's top artists, including Taylor Swift, Brooks & Dunn, Gretchen Wilson, Willie Nelson, Kenny Chesney, Wynona Judd, Lee Ann Womack, Toby Keith, Sugarland, Tricia Yearwood, Montgomery Gentry, and Faith Hill. In addition, his guitar work has been included on projects with Bob Seger, Amy Grant, Etta James, Mandy Moore, Jewel, Indigo Girls, and Peter Cetera.
Kenny Greenberg: Guitar Player, Producer, Songwriter. (n.d.) Retrieved: 2-June-2022. From: KennyGreenbergMusic.com. https://kennygreenbergmusic.com/
Websites:
External links are provided for reference purposes. Christian Music Archive is not responsible for the content of external internet sites.