Daniel Band is listed in the credits for the following albums: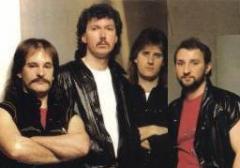 Daniel Band
The Daniel Band is a Canadian Christian metal group formed in 1979 in Toronto. They were pioneers in the contemporary Christian music industry for their sound that ranged from hard rock to heavy metal. During the early to mid 1980s, they were one of the most popular and important bands of their genre in the Christian music industry.
The group originated in 1979 in suburban Toronto, Ontario, and were based out of a Brethren Assembly in Scarborough, Ontario called Bendale Bible Chapel which held a weekly coffeehouse (The One Way Inn) in its church basement, that featured various Christian rock groups, that the band members played in.
The Daniel Band suffered from the same problem that all Christian rock acts in Canada face in the country's tiny Christian music industry. In order to maintain a career, Christian musicians in Canada must play in the secular market or break into the immense American CCM industry. Daniel Band were never interested in playing bars and clubs. Though they had critical acclaim, played to large audiences, and had a large grassroots fan base, they never reached their goal of mainstream success in the American CCM market. Nevertheless, no other Canadian Christian musician or group has ever matched their success. The band placed as a top three finalist in the 1982 Homegrown concert sponsored by Toronto radio station Q107, and played at the El Mocambo with the champion, Oliver Heavyside (listed in One-Hit Wonders--US and, as the Partland Brothers, as One-hit wonders in Canada) and runner-up, The Cameo Blues Band, both longtime professional bar bands on the Toronto scene.
Their first album, On Rock (1982), offered a progressive rock sound that was typical of the era, in the tradition of April Wine and Boston, but with a harder edge. The solid rock guitar and high register vocals reminded fans of the Canadian rock group Rush. Their sound grew heavier with Straight Ahead (1983), and by the time of their third album Run from the Darkness (1984) they were a heavy metal act with all the trappings. This was their spandex and studded dog collar stage, with a sound that was closer to AC/DC.
Many argue the American CCM market was not ready for pure metal acts until much later into the mid to late 80s when Stryper (1984) and other CCM bands such as Whitecross, Bride, Shout, Guardian, and Bloodgood were able to sell records and establish hard rock as a viable genre in Christian music.
Daniel Band was not the first hard rock act in CCM; earlier Jesus music rock acts included Chicago's blues-based Rez Band (Resurrection Band) (with whom Daniel Band often opened for around Southern Ontario), hard rock band Barnabas, classic rock act Jerusalem, and Petra, but they were the first band to offer a clear and simplistic gospel message combined with a sound that was the heaviest so far.
The band has never officially broken up, (although a farewell concert was held in Toronto in April 1988) and its members have been involved with various projects in Churches (including Bendale) and Schools where the members now live. Tony Rossi released a blues based album on R.E.X. Records in 1990. Dan McCabe was involved with a band called Dreamer which released one album, Full Metal Racket, in 1991, and released a solo CD and played with his older children in a band called Nine-O-Five.
In November 2006, Daniel Band was featured as the opening group for Audio Adrenaline's farewell tour concert in Toronto, along with Geoff Moore. Earlier in the year, there were two appearances in Sarnia, including an August festival that also saw a reunion of a local (Arkona, Ontario) group named Elim Hall, who were contemporaries of Daniel Band in the mid-1980s, and Glenn Kaiser Band (featuring two members of Resurrection Band).
In 2007, the band played at a May celebration of the One Way Inn's (now a drop-in) 35th Anniversary and the 50th Anniversary of Bendale Bible Chapel, and Freedom Festival Canada in Oro-Medonte, Ontario during August. They also played a show in Ajax in February 2009 with Glenn Kaiser opening, and in May 2009, again at Bendale.
Wikipedia contributors. Daniel Band. Wikipedia, The Free Encyclopedia. December 20, 2010, 19:01 UTC. Available at: http://en.wikipedia.org/w/index.php?title=Daniel_Band&oldid=403391170. Accessed December 28, 2010.