No albums list this artist in credits. You are able to edit albums and add credit info if you have created an account.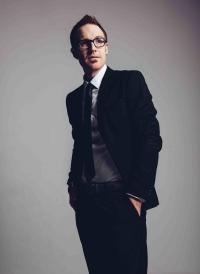 Ryan Stevenson
Ryan Dale Stevenson was born in Bonanza, Oregon. His parents are James and Phyllis, and he has an older sister, Janay. They reared him in the church, exposing him to hymns of the gospel at an early age. He was brought up in a rural agricultural town in Bonanza where he would be given his first instrument, a guitar, at eighteen years old. He attended Northwest Christian College, where he would hone his musical talent, with a roommate of his, Paul Wright. They formed a small band, primarily focusing on acoustic music, and performing it at local restaurants in and around Eugene, Oregon. Stevenson credits his mother as the one who fostered his musical skills, while growing up, through her prayers and support, for his chosen profession. His mother died of bone cancer on October 3, 2009, at 58 years old.
His music career began in 2003, however, his first release, an independently made album, Running to You, was not released, until June 12, 2007, by Off the Vine Music. Stevenson's songs have appeared on the Billboard magazine charts six-times, with two placing on two charts the Christian Songs and Christian Airplay. The first studio album, Fresh Start, was released on September 18, 2015, by Gotee Records and featured the 15-week No. 1 single "Eye of the Storm".
He is married to Kim Stevenson who was the worship minister at Vertical Church. Before his music career began, Stevenson had been a paramedic for eight years.
Wikipedia contributors. (2019, May 24). Ryan Stevenson (American musician). In Wikipedia, The Free Encyclopedia. Retrieved 16:00, May 25, 2019, from https://en.wikipedia.org/w/index.php?title=Ryan_Stevenson_(American_musician)&oldid=898621155
Websites:
External links are provided for reference purposes. Christian Music Archive is not responsible for the content of external internet sites.