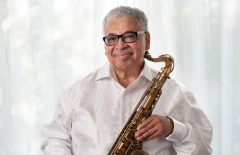 Justo Almario
Justo Pastor Almario Gómez is a Colombian-born, Los Angeles-based flutist, saxophonist, and Latin jazz group leader. He was among several Colombian musicians recruited by Mongo Santamaria for his band in the 1970s, notably on the album, Afro–Indio (1975).
Born in Sincelejo and raised in Medellin, Almario comes from a family musical tradition, dedicated since childhood to playing woodwind instruments. At 15, he founded the group The Bachelors and was a member of 16 Dilido Combo.
He studied at the prestigious Berklee College of Music in Boston, Massachusetts, before a stint with Mongo Santamaria. He received a call from Santamaria, who sought an alto saxophone for the Jazz Workshop Boston "presentaciónen 71".
He performs concerts and records with his own group. He works with drummer Richie Garcia, bassist Guillermo Guzman, George Krischke guitarist, and keyboardist Billy Cantos.
After working with Mongo Santamaria, Almario accompanied Jon Lucien, Frank Foster, Freddie Hubbard and Willie Bobo. He also played in the group Koinonia with guests including Machito, Tito Puente, Cal Tjader and Poncho Sánchez.
Wikipedia contributors. (2019, October 14). Justo Almario. In Wikipedia, The Free Encyclopedia. Retrieved 21:33, October 18, 2019, from https://en.wikipedia.org/w/index.php?title=Justo_Almario&oldid=921157276