The Winans is listed in the credits for the following albums: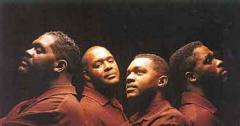 The Winans
The Winans are an Gospel music quartet from Detroit, Michigan consisting of brothers Marvin, Carvin, Michael and Ronald Winans. The brothers (the second, third, fourth and fifth siblings of the Winans family) grew up in Detroit, Michigan and were discovered by Andrae Crouch, who signed them to Light Records. Their first record, Introducing The Winans was produced in 1981. They performed vocals in This is America, Charlie Brown's segment "The Building of the Transcontinental Railroad" in 1989. Their style was noted for its crossover efforts and received airplay on R&B radio. The group's last recording was in 1995, but they have subsequently been involved in various Winans family projects where they are credited as "The Winans".
Ronald passed away in June 2005. Marvin is founding pastor of The Perfecting Church in Detroit. 
The Winans. (2011, March 8). In Wikipedia, The Free Encyclopedia. Retrieved 12:38, July 11, 2011, from http://en.wikipedia.org/w/index.php?title=The_Winans&oldid=417785656