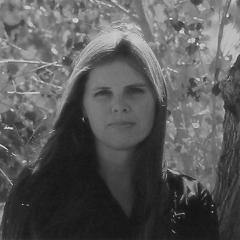 Becky Ugartechea
Becky Ugartechea was a smoky-voiced pioneer of Jesus music associated with Calvary Chapel in Costa Mesa, California. Her last name (pronounced u-gar-te-shay-a) means "house between two rivers," providing a title for her first album. Long before it was release, however, Ugartechea would record her best-known song, "God Don't Care Who you Are," for inclusion on the important Maranatha Three compilation disc (Maranatha, 1973). Although Maranatha Three was not as well received as the two hugely significant collections that it followed, Becky's song was generally recognized as the highlight of the package. Almost thirty years later, producer Erick Nelson regarded the overall project with some dissatisfaction while noting, "Funny thing is, Becky Ugartechea was just great and even bad productions couldn't wreck her song." That song states a rather straightforward gospel message that was a source of much inspiration to Jesus freaks: "God don't care who you are / He can change your life / God don't care what you were / He just wants to love you."Ugartechea performs it as a rhythmic folk song, with an ultimately wailing vocal set against strummed guitar and off-beat percussion.
Fans of that single would have to wait three years to get more. By the time House Between Two Rivers appeared, the simple Jesus music scene had burgeoned into a developing contemporary Christian music industry, and the project was almost overlooked amidst a flurry of similar releases by female vocalists like Honeytree and Janny. Years later, historian David Di Sabatino would describe the album as "stylistically reminiscent of Olivia Newton-John," but that does not do justice to Becky's darker voice. Jesus Music describes the sultry "Take All the Lonely Times" as a song that "makes you swear you were sitting in a dark, smoky nightclub." House Between Two Rivers opens with a rock track, "Who's the Master?" featuring Matthew Ward on background vocals. The other members of 2nd Chapter of Acts put in appearances also, along with Paul Clark, Jamie Owens, Terry Talbot, and many of the Maranatha artists. The album was produced by Al Perkins.
Another three years passed before Ugartechea's second album, Songs of Faith. Given the short memory of the Christian market, the project (also produced by Perkins) was treated as a debut from a new artist who was officially called simply "Becky." Mostly MOR, it slides definitively into adult contemporary; a few tracks with country leanings seem to preview the later work of Susan Ashton.
Powell, M. A. (2003). Becky Ugartechea. In Encyclopedia of Contemporary Christian Music (2nd ed., pp. 971). Peabody, MA: Hendrickson Publishers, Inc.