Quincy Jones is listed in the credits for the following albums: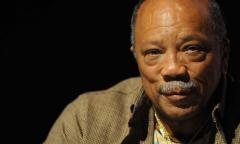 Quincy Jones
Quincy Delight Jones, also known as "Q", is an American record producer, actor, conductor, arranger, composer, musician, television producer, film producer, instrumentalist, magazine founder, entertainment company executive, and humanitarian. His career spans six decades in the entertainment industry and a record 79 Grammy Award nominations, and 28 Grammys, including a Grammy Legend Award in 1991.
Websites:
External links are provided for reference purposes. Christian Music Archive is not responsible for the content of external internet sites.