No albums list this artist in credits. You are able to edit albums and add credit info if you have created an account.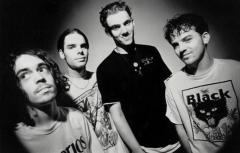 Poor Old Lu
Poor Old Lu was a pioneering alternative Christian band based in the American Northwest. The band experimented with a variety of sounds and genres, particularly grunge, funk and psychedelic rock. The band consisted of Scott Hunter with the vocals, Jesse Sprinkle as the drummer for the band, Aaron Sprinkle as guitarist, and Nick Barber on bass. Scott was the lyricist who wrote on philosophical, metaphorical, and spiritually-oriented topics. Common themes in the lyrics include introspective struggles with identity and spirituality, struggles with a superficial, secular, and modern society, and hope for life abundant. The Encyclopedia of Contemporary Christian Music calls the band "One of the most accomplished and creative Christian bands of the '90s".
The name refers to a segment in The Lion, the Witch and the Wardrobe, in which Lucy ('Lu'), returns from Narnia and tells her brother, Peter. Peter doesn't believe her story, however, and responded patronizingly, "Poor old Lu, hiding and nobody noticed."
While Poor Old Lu developed an extremely loyal following, it did not achieve wide popularity in Christian circles, due in part to its edgy sound and challenging lyrical content. The band addressed hypocritical televangelists, drug addiction, sexual guilt, domestic unrest and spiritual rebelliousness in its lyrics, topics generally considered taboo in Christian music.
History
While sophomores in high school, Nick, Aaron, and Scott started a band they called "Bellbangvilla," composed an album named In Love with the Greenery, and performed shows around the Seattle, WA area. A few months later, Jesse joined the group, and the band changed its name to Poor Old Lu, and recorded its first album under the new band name, entitled Three Song Demo.
In the spring of '92, they recorded their first full-length release, Star-Studded-Super-Step in three days in an empty classroom in their church. After graduation, the band played more shows to even larger audiences and was widely praised for being so young, so original, and having a good message.
Aaron and Jesse's father gave the demo to Randy Stonehill, who in turn passed it on to Terry Taylor, who in turn approached Frontline/Alarma Records. In the summer in 1993, the band recorded its first professionally produced album, Mindsize. This album, produced by Terry Taylor and Derri Daugherty, turned out to be their breakthrough.
The following summer, the band recruited engineer/producer John Goodmanson to create a more raw sound and aggressive edge, and Sin was recorded and released with rave reviews.
In late spring of 1995, Poor Old Lu recorded Straight Six, an EP with a raw and unique sound. In early spring of '96, Poor Old Lu recorded A Picture of the Eighth Wonder, which broke new ground with a darker sound. In late 1996 decided to call it quits, playing their farewell concert in Seattle, Washington in November 1996. This concert was recorded and eventually released as a live disc two years later in 1998 under the title In Their Final Performance.
In 2002 the band reunited and recorded their last album, The Waiting Room for Tooth and Nail Records. In support of this release the band reunited for a number of shows in 2002, playing at select venues in their hometown of Seattle, WA as well as a few select Christian music festivals that included Cornerstone, TomFest and Purple Door. There are no current plans for the band to reunite again.
Poor Old Lu. (2012, January 13). In Wikipedia, The Free Encyclopedia. Retrieved 12:59, March 21, 2012, from http://en.wikipedia.org/w/index.php?title=Poor_Old_Lu&oldid=471097826
Where are they Now:
After the group's initial break-up, band members moved on to independent projects. In 1997 Nick Barber joined up with Aaron Sprinkle in the group Rose Blossom Punch. The short-lived group also featured Paul Mumaw and Terry Coggins. Nick Barber also played in the bands Meekin Pop and Blue Collar Love. By the time Rose Blossom Punch split up, Aaron Sprinkle had gone onto to start his solo career, in which he would release 6 total albums from 1999 to 2004.
In 2005 Aaron Sprinkle formed the band Fair with Joey Sanchez, Nick Barber and Erik Newbill. Fair released its debut album, The Best Worst-Case Scenario, on Tooth and Nail Records in June 2006. Aaron produces records out of Compound Recording Studios in Seattle, WA.
Brother Jesse Sprinkle moved to New York and has released numerous albums over the years under different name monikers such as Sunsites and the World Inside. He ran the recording studio the Illuminata in Dansville, New York until early 2006, when the studio closed. Jesse continues to play in a variety of bands including Morella's Forest, Serene, Demon Hunter, and Dead Poetic; as well as continue to record his own music.
In a December 2006 update on the Poor Old Lu website it was announced that former lead vocalist Scott Hunter has started a new band called This Diminishing West. While the band promised a debut disc sometime in early 2007, the band never seemed to have gotten off the ground. On the band's website Scott informed fans in a September 2007 update that the group had decided to call it quits.
Websites:
External links are provided for reference purposes. Christian Music Archive is not responsible for the content of external internet sites.