No albums list this artist in credits. You are able to edit albums and add credit info if you have created an account.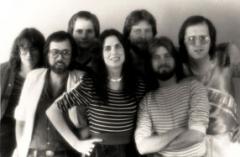 Servant
Servant was a Christian rock group that grew out of the counter-culture Jesus Movement of the sixties and seventies. The band was founded in Victoria, British Columbia in 1976 by Jim Palosaari and performed to audiences throughout North America, Europe and Australia for over 12 years. Originally named "Higher Ground", the group quickly changed their name to Servant. They were known for challenging the Christian church to turn back to social justice and caring for the poor.
A Servant rock concert was like a festival event. The band was known to incorporate comedy and short skits in their sets on stage. Servant was also the first Christian rock group to use laser lights, flame tubes, fireworks, fog machines, in addition to an extensive light show and quadraphonic sound (a precursor to surround-sound).
In the early 1980s some critics considered Servant's theatrics, light shows, smoke-bombs and flash-pot stage performances too raucous to be authentically Christian. However, the band's mission was to reach the ears and hearts of those who might not feel so comfortable in church buildings. Shying away from the praise lyrics and easy-listening rock styles that typified most contemporary Christian music at the time, Servant instead attempted to offer edgy, rhythmic, passionate rock and an aggressive stage performance filled with an evangelistic Christian message, and spiced with strong social commentaries.
A CCM Magazine review of their 1981 release, Rockin Revival, stated that the band's lyrics reflected Christian communal subculture, and contained elements of social protest and criticism.
Servant toured extensively throughout America, Europe and Australia in concert halls and at music festivals like "Creation" and "Greenbelt". They recorded 6 studio albums with songs that ranked in the Top 40 Contemporary Christian Music Charts including "Come Jesus Come", "Holding on to You", "Thank God", "We are the Light", "Surrender", "Harder to Finish", and "I Will."
From 1981 to 1985, opening acts for Servant included Grammy Award winning Petra, DeGarmo & Key, Joe English (of Paul McCartney & Wings fame), Will McFarlane (recorded with Jackson Browne), Randy Matthews, Jerusalem, and Steve Camp. Petra opened for Servant on tour in late 1981 and early 1982 just as Petra's breakthrough album, Never Say Die was being released.
The band reunited to perform a one-off concert at Cornerstone Festival in July 2011
Servant (band). (2012, December 24). In Wikipedia, The Free Encyclopedia. Retrieved 00:59, February 7, 2013, from http://en.wikipedia.org/w/index.php?title=Servant_(band)&oldid=529582663
Where are they Now:
Sandie is a massage therapist and has her own practice; Equilibrium3; Owen is a graphic designer and stays connected to the music industry through CD packaging design with Visual Fluency. Active in the emerging church, we are part of a spiritual community that connects as a network of house churches in an urban neighborhood of Cincinnati, Vineyard Central.
Matt Spransy and his wife Siv, reside in the Madison, Wisconsin area and are involved in music and mentoring youth.
David Holmes is married and lives a quiet life in Victoria where the band started.
Bob Hardy and his wife Michele live in Southern California and are involved in ministry there.
Rob Martens and his wife Lori live on Vancouver Island just north of Victoria.
John and Susie Jenkinson who are marriage and family counselors live in the lower mainland of British Columbia.
Gary Summerbell lives in Edmonton, Alberta with his wife Florence.
Lori, John and Susie, and Gary were all key members of the Servant road crew—without the sacrifice and service of these and many others, there would be no story to tell.
Eric Odell and his wife Teresa reside in Cranston Rhode Island where Eric works in marketing for a technology company.Bruce Wright, sadly died of cancer in Victoria in 1993. If you never saw Bruce do his Holy Roller Blues routine, you missed a seminal moment. Truly the loss of a great pioneer.
Websites:
External links are provided for reference purposes. Christian Music Archive is not responsible for the content of external internet sites.