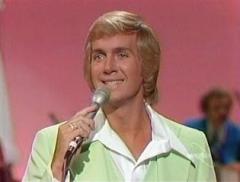 Tom Netherton
Thomas Harold Netherton, Jr., known as Tom Netherton, was a singer best known for his long tenure on The Lawrence Welk Show.
The lanky six-foot five-inch Netherton was born in Munich, Germany, as the son of a United States Army officer stationed there. The eldest of four children, he and his family moved around frequently. In 1961, however, the Nethertons settled permanently in Bloomington, Minnesota.
Netherton enlisted in the Army during the Vietnam War era, and was sent to Panama. By that time, he had also chosen to pursue a career in music, singing with the Army and Air Force bands. He became a born again Christian when he listened to a sermon at a Baptist church in Panama. Upon leaving the service, he spent a year at the Bethany Fellowship Missionary Training Center in Bloomington, where after being torn between missionary service and a career in entertainment, chose to follow the same path taken by his idol Pat Boone, by being a Christian singer.
He joined Lawrence Welk in 1973 on the recommendation of both Harold and Sheila Schafer, owners of the Medora Musical in Medora, North Dakota; a show where Tom was performing at the time. He became an audience favorite (mostly with the ladies) with his deep baritone singing voice and his All-American good looks.
During his time on the show, and afterwards, Netherton released several albums, both Christian and secular which sold well. He has also toured frequently, performing concerts in places like Berkeley Springs, West Virginia; Williamsburg, Virginia, and other venues across the United States and Canada. He has also pursued acting as well, appearing in productions of Oklahoma! and Carousel to rave reviews. He has appeared on numerous commercials for Rose Milk skin care lotion and Nabisco's Triscuits crackers, and guested on television shows such as Pat Robertson's The 700 Club, Robert Schuller's The Hour of Power and on many Billy Graham crusades.
In 1979, at only thirty-two, Netherton published an autobiography titled In The Morning of My Life.
On January 11, 2018, Netherton's younger brother, Brad Netherton, announced on his Facebook page that the singer had died from pneumonia and the flu on January 7, 2018 at age 70.