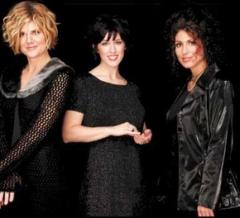 Sierra
The music group Sierra has had 15 Top 5 hits on Christian radio; seven of these have hit the number one spot. They have sold more than a quarter of a million albums and have performed for sellout crowds at Christian women's conferences.
Sierra was founded in 1991 in Houston, Texas, by singer/songwriter Wendi Foy Green. Green graduated from Baylor University in Waco, Texas, and moved to Austin, Texas to work at a Christian radio station. While working there she met a record company executive who offered her a solo recording contract. This led to her solo release of an album titled Finders Keepers in 1988. For Green, however, the most important aspect of this project was that she met producer Brian Green. They decided that if they could work together to make a record, they could successfully do anything together, and they were married in February of 1989.
Three-Part Harmony
Meanwhile, Green had become interested in finding other women to form a vocal trio. She had been singing in groups since childhood, when she joined her father, a music minister, and her two sisters to sing religious songs in churches. She told the CMO.com website, "I've always loved the sound of three-part harmony, and I wanted to do it again." Through her husband's work in the Christian music business, Green met two women who, coincidentally, had the same first names as her sisters: Deborah Schnelle and Jennifer Hendrix. Like her sisters, they had grown up in families that combined a love of music and religious faith; all had parents or grandparents who were full-time ministers.
Schnelle, born in Austin, Texas, had sung background vocals on Green's solo album, and they had been friends for several years. Schnelle was delighted when Green asked her to help form a trio. She did not want to have a solo career, so the group was perfect for her. Green met Hendrix through her husband, a producer, who was working on a project with her. Hendrix told CMO.com that when Green called to ask her to join, "I prayed about it and said yes."
The three had a remarkably close blend of voices, similar to that of real sisters. In 1992 they moved to Nashville to pursue their dream. They sang during their lunch breaks at the Baptist Sunday School Board, where they were working, and eventually signed a contract with Star Song. They spent the next ten years touring and performing hundreds of times each year at religious venues and on Christian television shows, including Life Today With James Robison, The 700 Club, The Crystal Cathedral, and Trinity Broadcasting Network, as well as on many Christian radio programs.
In October of 1994 the group released their debut album, Sierra. It was a huge success in the Christian music market, selling over 100,000 copies in only nine months. Their second album, Devotion, had similar success. They released Story of Life in 1991.
"That's Me"
The group's goal was to combine their soaring harmonies with their love of God, in order to inspire listeners to be closer to God. They drew from their own life experience to write their songs. For example, in the song "Tearing Down the Temple," Schnelle wrote about her struggles with anorexia nervosa, an eating disorder. She told CMO.com that the song resonated with audiences: "It never fails, when I sing that song, someone will come up later and say, 'That's me.' And I can pray with them from the heart, because I've been there."
Schnelle left the group, and a new member, Marianne Tutalo, joined for the group's next album, Change. After releasing Change, the group's members went through their own personal changes. Hendrix had her second child, and group member Marianne Adams got married. Their next album, The Journey, reflected these changes. It was lighter, with less emphasis on struggle and tribulation. Hendrix commented on the group's website, "It is almost as if we are looking in the rearview mirror at the past and saying, 'Thank you God', for carrying us through."
Following their release of The Journey, Sierra decided to limit their concert appearances to six per month so they could spend more time with their families. Although they continued to appear at Women of Faith conferences and Women of Virtue conferences, and hosted a show on the TBN network called The Sierra Hour, they made their families a priority. They also decided to spend more time studying the Bible and praying, because they felt all the emphasis on performing had distracted them from their spiritual lives. Hendrix wrote on the group's website that doing this "makes me spend time with the Lord, and it is wonderful. I want it. I need it. That is why I am forcing that time to happen."
In 2002 the group decided to disband. Green went on to pursue a solo career, and Tutalo and Hendrix formed a new worship band, called Abide. "I think change is for the better," Green said on the group's website. "There is constant change. Hopefully it is change for the better—to be more Christ-like, to be more Christ-centered, to be less self-centered." She added, "Ten years ago my writing was lighter, fluffier. I wrote good songs with good messages, but as I mature … I want to paint an aural picture with more colors." She noted, "If you are going to present something, present it from the depths of your soul."
Sierra. (2006). Retrieved August 15, 2014, from Answers.com website: http://www.answers.com/topic/sierra-group