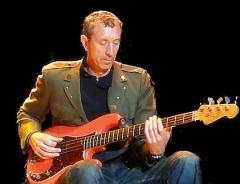 Pino Palladino
Giuseppe Henry "Pino" Palladino is a Welsh bassist. He gained fame for playing primarily rock and roll, blues rock, and rhythm and blues music, although he has been lauded for his ability to play most genres of popular music, including jazz, neo soul, and funk.
His career has spanned several ensembles, including the John Mayer Trio and The RH Factor, which he formed with jazz trumpeter Roy Hargrove. He was also Pete Townshend's and Roger Daltrey's first choice to fill the position left by John Entwistle as the bassist for The Who. More recently he has recorded and toured with D'Angelo and The Vanguard.
He has played on a large number of recordings. He is known for playing a late 1970s fretless Music Man StingRay bass guitar and, later in his career, fretted Fender Precision and Jaguar basses. His playing has earned him custom instruments bearing his name.