Leviticus is listed in the credits for the following albums: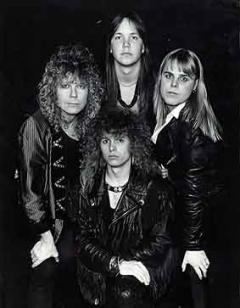 Leviticus
Swedish heavy metal band that debuted in America in 1984, after releasing two foreign language albums in 1982 and 1983 respectively. In 1988 the band toured America with Larry Norman performing as his backup band. The band has maintained a loyal following over the years and has seen some of its early recordings reissued on CD.
The band's early releases were metal with symphonic influences using the Roland synthesizer guitar and Moog Taurus pedals. Knights of Heaven showed a move toward a more melodic rock based sound.
In 1986 the band went through lineup changes: Ez Gomér was brought in to replace Håkan Andersson on bass, and Terry Haw joined. Both were with the band through Setting Fire to the Earth (1987), then left to form Jet Circus. With this lineup they toured extensively in Europe throughout 1986–1987.
They played the Greenbelt festival in England three times, 1984, 1985, and 1987, and the Scandinavium in Gothenburg twice (1985, 1987). The second appearance at the Scandinavium was with a festival, and was filmed by Sveriges Television.
In early '88 Leviticus toured again in Sweden and in April they returned to England. Their first United States tour was in August 1988, when they opened for Larry Norman and played as his backup band. In fall of that year they toured for two months throughout Europe. together with Bloodgood and concluded the year playing the Ennepetal Christmas Rock Night festival in Germany for the second time.
In 1989 they did touring again in Australia and completed two tours in the USSR. The same year they recorded Knights of Heaven in Los Angeles, produced by John Elefante.
Before breaking up in the latter part on 1990 they again toured in the United States and Canada.
The band re-formed in March 2003 to play at the final Bobfest. The show was recorded by Sveriges Radio and released to CD. The final Leviticus show was held in Hjo Sweden June 2003 a festival gig together with Swedish metal giants In Flames.