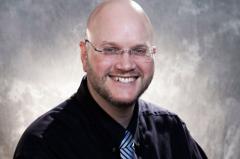 Jay Swartzendruber
Jay Swartzendruber was a prominent Christian music publicist and journalist who became a key force in enlisting Christian artists in the fight against HIV/AIDS. Notable for his work with successful Christian crossover acts including Switchfoot and Sixpence None the Richer as a publicist at Christian labels such as Charlie Peacock's re:think and Steve Taylor's Squint Entertainment in the 1990s and early 2000s, Swartzendruber later served as head of CCM (Christian Contemporary Music) magazine for five years, where he broadened the magazine's coverage to encompass what he dubbed "Christian worldview music."
"Jay played a significant role in the pop success of Switchfoot and Sixpence None the Richer," added Peacock -- who gave Swartzendruber his first break in the industry after hiring him as an intern at his production company -- in an email sent to Billboard. "Through our separate labels, Steve Taylor and I both had the privilege of Jay being our publicist. There's no question that Jay was the only person at that time who was equipped to navigate the pop market and the Christian community -- where both artists had tremendous success."
During the early 2000s, Swartzendruber would enlist Peacock in his efforts to educate Christian artists about the HIV/AIDS epidemic in Africa by luring Bono -- who was then in talks with then-President George W. Bush about providing antiretroviral drugs to Africa -- to a summit at Peacock's home in Nashville. Many of the artists in attendance went on to champion the President's Emergency Plan For AIDS Relief (PEPFAR), a 2003 bill that has since invested $85 billion in the global HIV/AIDS response.
In an interview for the 2019 documentary 27 Million Lives, Swartzendruber called his involvement in convening the summit "the most meaningful thing that I ever did during my two decades in Christian music."
"It sparked this whole mindset for Christian activism among the artists, and it's still happening," said Swartzendruber, noting that many of these artists continued working for social justice causes beyond the passage of PEPFAR.
In addition to his work with Peacock and Taylor, Swartzendruber also served in PR roles at independent Christian labels R.E.X. and Gotee Records and helped launch a print edition of the conservative-leaning news site Townhall.com. At the time of his death, he had been working in the communications department at the Billy Graham Evangelistic Association for over a decade.
Jay Swartzendruber died of a heart attack on Tuesday, October 13,2020. He is survived by his wife Jamie Horton Swartzendruber, father Jacob Paul Swartzendruber, mother Ann Leonard Swartzendruber, sister Druscilla (Dee) Swartzendruber Cockerill (Ken), brother William Michael Swartzendruber, sister-in-law Jan Horton Spence (Mitch) and sister-in-law Jenny Horton.
Eggertsen, C. (October 16, 2020). Jay Swartzendruber, Nashville Publicist & Journalist Who Enlisted Christian Artists in HIV/AIDS Fight, Dies at 52. Billboard.com. Retrieved October 18, 2020, from https://www.billboard.com/articles/news/obituary/9466954/jay-swartzendruber-christian-music-switchfoot-sixpence-none-the-richer-dies