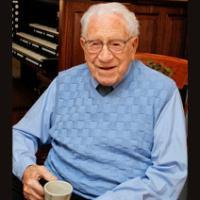 George Beverly Shea
George Beverly "Bev" Shea was a Canadian-born American gospel singer and hymn composer. Shea was often described as "America's beloved Gospel singer" and was considered "the first international singing 'star' of the gospel world," as a consequence of his solos at Billy Graham Crusades and his exposure on radio, records, and television. 
George Beverly Shea was born in Winchester, Ontario, Canada, on February 1, 1909, the fourth of eight children of the Rev. Adam Joseph Shea, a Wesleyan Methodist Church minister, and his wife, Maude Mary Theodora (Whitney) Shea. George was taught to play the violin by his father, and the piano and organ by his mother. Shea's baritone voice brought early recognition and provided many opportunities for him to sing in his father's church. He began singing at religious meetings in the Ottawa Valley.
In 1939 Shea auditioned unsuccessfully for a spot on a CBS radio program that originated in Chicago, Illinois. Soon after Dr. Will Houghton, president of the Moody Bible Institute (MBI) offered Shea a staff position with "duties that included emceeing, interviewing, news-casting, continuity writing, programming, administration, auditioning, and singing" on radio station WMBI. Initially Shea sang on Houghton's Let's Go Back to the Bible, from 1939. Later he was also involved in Miracles and Melodies, which started on 67 radio stations across the USA in 1940, and was broadcast on 187 different stations in 45 US states, Canada, Latin America and China.
n the summer of 1942 Shea took a leave of absence from WMBI to join Word Of Life (WOL) evangelist Jack Wyrtzen for evangelistic crusades in the New York area. He spent this summer traveling throughout New Jersey, New York, and Connecticut, singing at youth rallies while also singing on WHN on Sunday mornings. When Shea returned to Chicago in September 1942, he talked with Torrey Johnson about conducting youth meetings in that area and soon "Chicagoland Youth For Christ" was held in Orchestra Hall on Michigan Avenue, Chicago, with Shea singing and Billy Graham speaking. From this initial concert, Johnson founded Youth for Christ (YFC). Shea sang in YFC rallies across the U.S. and Canada.
Billy Graham Association
According to Don Cusic, "Shea and Billy Graham are the prime examples of an evangelical Christianity with mainstream appeal after World War II. Previously the evangelicals and fundamentalists were on the fringes of American religion; Shea and Graham put it in the mainstream." According to David Poling, "central to Billy's successful ministry are the years of loyal service of people like George Beverly Shea, the first staff member to be hired by Graham back in the Chicago radio days." Shea has been involved as a soloist with Billy Graham and his ministry, the Billy Graham Evangelistic Association (BGEA) since 1947. Shea first met Billy Graham in 1940 while Graham was pastor of the Village Church in Western Springs, Illinois. In a September 2007 interview Shea recalled how he first met Billy Graham:
"One morning, there was a rap on my office door. I looked out and there was a tall young man with blond hair and we shook hands. He was 21 and I was 31. It was Billy Graham and he had traveled in from Wheaton College on a train just to say 'hello.' He said he listened to my morning hymn show called 'Hymns From The Chapel.' That's how we first got acquainted. I came into this work with Mr. Graham in 1947 after we had exchanged letters and talked on the phone. He said he wanted me to be his gospel singer. I thanked him but told him the only gospel singers I've ever heard about would sing a verse or two and stop and talk a while. 'Would I have to do that?' I asked him. He chuckled and said, 'I hope not.' With that, I said, 'Well, I'd like to come with you.' That was in November of 1947 and I've been with him ever since."
In 1948 Shea, along with Graham, Barrows and Grady Wilson, formulated a set of ethical guidelines, later designated The Modesto Manifesto, that became the cornerstone of the BGEA. Shea, along with Graham, Barrows, Grady Wilson and George Wilson, is one of the five directors of the BGEA.
Shea sang at the unofficial launching of Graham's crusades in the old Armory in Charlotte, North Carolina, in November 1947. His first song was "I Will Sing the Wondrous Story."
As the musical mainstay in Graham's crusades, Shea is often called "America's beloved Gospel singer." In each crusade Shea "brings a quiet solo immediately preceding ... Graham's message. His solo serves as a transition from the song service into the message." Collins indicates: "Shea's solos set the tone for the preacher's messages. With his full, rich baritone Shea not only charmed audiences, he also touched them with the message of each song he chose." Graham said that Shea always prepared his crowds by singing before the message, and he felt the song was more powerful than the sermon.
Shea has recorded approximately 500 vocal solos on more than seventy albums) of religious music on both the RCA and Word Records labels. Shea has recorded songs with orchestral accompaniment, as arranged and conducted by musical directors, such as Hugo Winterhalter, Ralph Carmichael, Bill Walker, Nathan Scott, Norman Leyden, Jimmy Owens, Kurt Kaiser, Danny Davis, Charles Grean, and Radio City Music Hall organist, Ray Bohr. His albums have been produced by RCA's Steve Sholes, Brad McCuen, Darol Rice, Cliff Barrows, Don Hustad, Bill Fasig, and John Innes
During his career, Shea was nominated for ten Grammy Awards, winning on March 15, 1966, the 1965 Best Gospel or Other Religious Recording (Musical) for his album "Southland Favorites" recorded with the Anita Kerr Quartet.
In 1978, he was inducted into the Gospel Music Hall of Fame by the Gospel Music Association and for his lifelong contribution to gospel music. On 18 February 1982 Shea was awarded the Gold Angel Award for Country Music award by Religion in Media in Hollywood, California.
The Christian Holiness Association (now Christian Holiness Partnership) presented Shea its Christian Service Award in 1993. In 1996 the association of National Religious Broadcasters voted Shea into its "Religious Broadcasting Hall of Fame."
On September 11, 1999, Shea received the Integrity Award from Marketplace Ministries in Dallas, Texas. Shea also received a Lifetime Achievement Award from the Gospel Music Association Canada (GMA Canada) in 2004. He was presented the Edwin P. Hubble Medal of Initiative, the highest honor of the city of Marshfield, Missouri in 2007 by friend Reverend Nicholas W. Inman. Shea sang at the dedication of the Billy Graham Library the following day.
On February 12, 2011, Shea received the 2010 Lifetime Achievement Grammy Award alongside Julie Andrews, Roy Haynes, the Juilliard String Quartet, the Kingston Trio, Dolly Parton and the Ramones at a ceremony held at the Wilshire Ebell Theater in Los Angeles, California.
Shea died on April 16, 2013, of complications following a stroke.
George Beverly Shea. (2013, April 18). In Wikipedia, The Free Encyclopedia. Retrieved 23:36, April 18, 2013, from http://en.wikipedia.org/w/index.php?title=George_Beverly_Shea&oldid=551024822