Gentle Faith is listed in the credits for the following albums: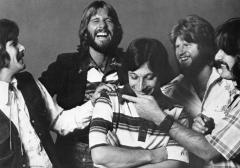 Gentle Faith
Gentle Faith was a Christian country rock band in the 1970s, during the Jesus Music era, before the rise of the CCM industry. The group formed in 1974 and released one self-titled album in 1976 under the Maranatha! label.
The lead singer was Darrell Mansfield, who went on to form The Darrel Mansfield Band, which is still active. Other members of Gentle Faith included Don Gerber, Paul Angers, Steve Kara, and Henry Cutrona.
The band was originally called Jubal, but switched to Gentle Faith sometime in the middle of 1975, while at a meeting at Calvary Chapel. It was decided that the band would change its name when another band showed up with a similar name, Jubal's Last Band. Mansfield renamed his band Gentle Faith (taken from the name of co-band member Henry Cutrona's earlier band), and Jubal's Last Band became Daniel Amos.
Gentle Faith. (2011, March 6). In Wikipedia, The Free Encyclopedia. Retrieved 12:24, August 22, 2011, from http://en.wikipedia.org/w/index.php?title=Gentle_Faith&oldid=417387660