No albums list this artist in credits. You are able to edit albums and add credit info if you have created an account.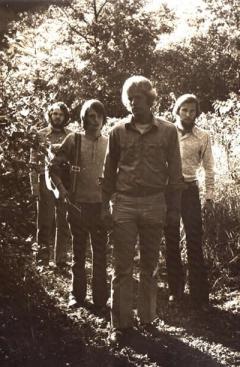 E
Once upon a time a group of longhaired hippie musicians from Indianapolis formed a band called E! With plans to take over the world! Though formerly named Gidians Bible, they'd never read the Bible or met the real Jesus. But the name sounded cool. After 1 year that band broke up & spiritual winds were ablowin'... They left the drug & sex scene to get serious about their music. They all moved in together, became vegetarians, started meditating, studying yoga & pursuing their rock&roll dreams. They called their new band simply E. (Electricity, Ecology, Evolution, Earth, Eden, Ecstasy, Empathy, Etc!)
But in the summer of '69 the earth shook & Jesus came calling. They had an encounter with the real Jesus! Not just the guru, wizard, holyman, hippie hero, religious icon- but the living Son of God from the Bible & from Heaven! They were all radically converted from Self to the Savior.
They got baptized & became instant, intense Christian missionaries. They left behind their dreams of fame, fortune & new age fables for a life of faith & ministry. They began playing for Jesus anywhere they could...in lounges, bars, colleges, high schools, parks, churches.
Still called E (Now it stood for Emmanuel!), they were a mix of Cream, Grand Funk, the Doobies, the Who, Led Zeplin, the Moodie Blues & Santana. With their distinctive Hammond B3 sound, Greg Volz' soaring vocals & God-honoring, joyful songs, they were a pioneers of a unique new breed of gospel music.
Although a few live concert recordings exist, the band only recorded a few songs in studio. They had 3 songs on a compilation album called "Becaue I Am" ('71).
Websites:
External links are provided for reference purposes. Christian Music Archive is not responsible for the content of external internet sites.