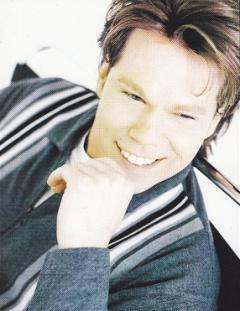 David Robertson
Christian pop singer David Robertson was born in Pennsylvania and raised the son of a second-generation minister. He sang in early camp meetings and revivals for his church, then at the age of 18 left for Los Angeles to become a music star. He reports that he spent five years in "a prodigal life" of drugs and carousing before two friends who had recently converted to Christ brought him to a Bible study led by Millie Andrzejewski, the mother of rock singer Pat Benatar. "She was on fire for God," Robertson told CCM. "She hit me with her best shot, so to speak, and the rest is history."
Reconnected with his Christian roots, Robertson joined The Imperials for a year, contributing songs to their Love's Still Changing Hearts album. Then he released three solo records. Soul Embrace includes the hit "I Believe in Love" and a duet with Dottier Rambo, "One More Time." Someone Who Cares moves into Steven Curtis Chapman adult contemporary territory with songs directed to those within the church.
Powell, M. A. (2003). David Robertson. In Encyclopedia of Contemporary Christian Music (2nd ed., pp. 771). Peabody, MA: Hendrickson Publishers, Inc.