Connie Scott is listed in the credits for the following albums: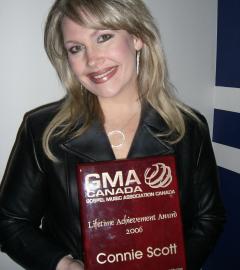 Connie Scott
Connie Scott's singing career began in 1983, at the age of 18, with the release of her debut album Heartbeat. This launched an impressive 7 album career that saw many top-seller lists, much airplay on the Contemporary Christian Music Charts and a parade of concert tours. Her signature vocal stylings quickly gained her critical acclaim - preliminary Grammy and Dove nominations, mainstream recognition including 3 consecutive CARAS (Canadian Academy of Recording Arts and Sciences) West Coast Music Awards for top Inspirational performer.
More recently, musical endeavors have included commercial session work for Mattel (superdoll Barbie), Walt Disney and background vocals for mega-celebrities Cher and Michael Bolton. After spending a year as co-host of a morning drive-time show on a Vancouver Radio station, her talents in front of the microphone and camera have lead her to many appearances on local TV talk shows.
Her latest recording ...a Renaissance is a collection of Connie's hallmark songs from a 20+ year music ministry career. Two new songs that reflect her heart and continued passion for music highlight this project.
In October of 2007 the Gospel Music Association of Canada honored Connie's pioneering efforts in Christian music by presenting her with the prestigious LifeTime Achievement Award.
For someone whose music has become a reflection of her life, Connie's outlook is simple and certain. Sharing her music is an opportunity for Connie to express the true nature of Connie Scott; a busy wife / mother / homemaker / singer / communicator / friend; and to address with others the challenges of life in the 21st century.
Connie, her husband Grant and two boys - Kellen (22) & Linden (19) - reside just outside of Vancouver, BC in the city of Surrey.
Scott, C. (n.d.). Connie's Bio. Retrieved June 9, 2011, from Connie Scott website: http://conniescott.ca/bio