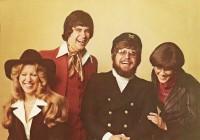 Children of the Day
Children of the Day was a Contemporary Christian music group that recorded and toured from 1971 to 1979. After becoming a born-again Christian, 16 year-old Marsha Carter was instrumental to leading her sister Wendy and friend Peter Jacobs to Christianity. Utilizing Carter's talents as a songwriter, the three formed a Jesus music group they called Children of the Day. With the addition of friend, singer and upright bass player Russ Stevens to the group, the band became a quartet and released their first album. Following the release of the album, Marsha Carter and Russ Stevens married.
Released in 1971 on the Maranatha! Music label, the group's first album was titled Come to the Waters. In order to finance the project, the group borrowed $900 from Calvary Chapel pastor Chuck Smith in order to produce the album that included what would become the group's best known song penned by Marsha Stevens, "For Those Tears I Died". The well-received album was followed two years later by With All Our Love (1973). Two more albums by the group were produced on the Maranatha! Music label, Where Else Could I Go (1975), and Christmas Album (1975). The group later signed with Light Records, releasing, Never Felt So Free (1977) and Butterfly(1979). It was after the release of Butterfly that the group disbanded. 
After the release of Butterfly, Marsha and Russ Stevens divorced. Following their divorce, Marsha Stevens publicly announced she was a lesbian. In The Encyclopedia of Contemporary Christian Music, editor Mark Powell referred to the incident as "Contemporary Christian Music's first official scandal".