No albums list this artist in credits. You are able to edit albums and add credit info if you have created an account.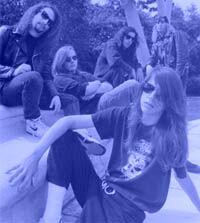 Betrayal
Betrayal was a technical thrash metal band from Van Nuys, California, formed in 1988. A year later the band released their first demo which eventually found its way to Word Records, who signed the band to their Wonderland imprint. The result was their debut album, Renaissance By Death, but the end was near, and the group disbanded in 1994.
Betrayal had a rebirth five years later when lead singer and guitarist Marcus Colon revived the band. The new group was really more of a solo project for Marcus, and this version of Betrayal was a more industrial and goth tinged metal sound. The Passing was released in 1993, shortly before the band faded into obscurity.