No albums list this artist in credits. You are able to edit albums and add credit info if you have created an account.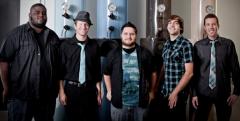 Acappella
Acappella is an all-male Contemporary Christian vocal group founded in 1982 by Keith Lancaster, who has variously played the role of singer, songwriter and producer throughout the group's history. Believing in the awesome versatility and flexibility of the human voice, Acappella can fill a large concert hall with beautiful, intricate music without instrumental accompaniment.
Acapella's fan base steadily grew through the 1980s as the group experienced many lineup changes and constantly experimented with fresh new sounds. The landmark album, Sweet Fellowship (1988), ushered in one of the most significant developments in the group's membership and style. Lancaster stepped out of the group as lead singer to focus on the role of producer and manager. The group continued to change after that, developing a unique sound that has been mimicked by countless groups around the world.
Signed to Word Records in 1990 (and later to Epic Records), Acappella's popularity soared with releases such as Rescue, We Have Seen His Glory and Set Me Free. Media exposure included many television appearances, while the song "More Precious Than Gold" became the centerpiece of a Sony Camcorder television commercial and was broadcast extensively nationwide. Hymns For All The World helped to increase the group's exposure internationally. Acappella has toured extensively around the world, singing in Africa, Australia, Canada, China, Europe, Jamaica, Japan, South America and the Caribbean in addition to thousands of concerts in the United States.
In 1986, Lancaster launched a spinoff group called Acappella Vocal Band (AVB). AVB originally opened and sang backup for Acappella, then branched off to tour on its own under the Acappella Ministries umbrella from 1988 to 2000.
After exploring various musical styles over nearly three decades, Acappella has returned to its roots with the sound that started it all, strengthened by the addition of a fifth vocalist. Acappella's 2009 album, Find Your Way, is a mix of strong harmony and sound biblical lyrics. Featuring Acappella's trademark strong bass and soaring tenor, Find your Way marks a triumphant return for the quintet after their 2006 release, Radiance. Acappella's worldwide impact was recognized with the group's 2007 induction into the Christian Music Hall of Fame.
Websites:
External links are provided for reference purposes. Christian Music Archive is not responsible for the content of external internet sites.