The Boones is listed in the credits for the following albums: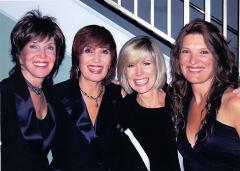 The Boones
The Boone sisters are four siblings (Cherry, Lindy, Debby and Laury)  born to singer-actor Pat Boone and Shirley Foley Boone. The sisters began singing with their parents as The Pat Boone Family and later as just the Boones or Boone Girls. They primarily recorded gospel music, although the sisters also released singles for the Motown and Curb labels that were remakes of secular pop music featuring Debby as the lead vocalist.
The Boones twice reached Billboard's AC charts with 1975's "When The Lovelight Starts Shining Through His Eyes" (No. 25), a remake of the Supremes' first top 40 hit, and 1977's "Hasta Manana" (No. 32), a cover of a track from ABBA's Waterloo album. The had 6 songs chart in the top 20 Christian music charts, according to CCM Magazine.
The four granddaughters of country music legend Red Foley last recorded as a group in 1980.