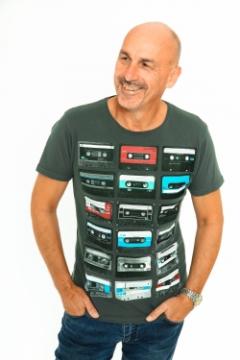 Noel Richards
Noel Richards is a Welsh singer-songwriter, worship leader, and recording artist. He has composed several songs that are used in contemporary worship, by Christians today, including All Heaven Declares, By Your Side, Restorer of My Soul (My Lips Shall Praise You), You Deserve the Glory (You Are Great), and You Laid Aside Your Majesty.
Biography
Noel Richards is Welsh. He was born in Llantrisant near Cardiff. When he was eight or nine years old, he became a Christian. He entered into a deeper sense of commitment to God at the age of fifteen, following which he began to look upon John Glass as a role model. John Glass was a young pastor who had just arrived at Richards' church from Bible college. Glass taught Richards to play the guitar, sing and to present himself. In his profile, Richards states that when he was 16, he encountered an experience with the Holy Spirit which he felt completed his being a Christian.
Musical career
Glass introduced Richards to the contemporary Christian music of that time, in 1971. Richards attended his first Christian music concert at the Colston Hall, Bristol. The event called "It's Buzz" was hosted by Pete Meadows. One of the performers at the event was Graham Kendrick. While watching Kendrick perform at the event, Richards thought to himself that that was what he wanted to do.
Following this event, Richards began singing at his own church. He also accompanied John Glass and other members of his own church when they set out on trips to other churches. On one of these trips, Glass introduced Richards to the man who was running the Youth for Christ operations in Bristol. This introduction became a turning point in Richards' life, as he became involved with evangelism before finally devoting his life to ministry.
Noel Richards. (2013, February 15). In Wikipedia, The Free Encyclopedia. Retrieved 15:36, February 17, 2013, from http://en.wikipedia.org/w/index.php?title=Noel_Richards&oldid=538469244
Websites:
External links are provided for reference purposes. Christian Music Archive is not responsible for the content of external internet sites.