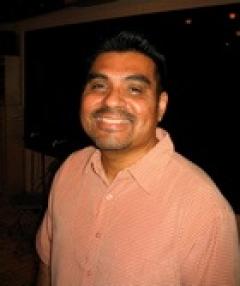 Joey Arreguin
Since an early age, Joey Arreguin knew that he was destined to be a songwriter. Motivated by family, and friends, Joey soon began expressing his innermost thoughts musically, while being raised in Mexico City. It was there that his latin-based rhythms, jazz, R&B, and Black Gospel influences began to shape what would soon become the foundational elements of his professional career. 
Upon returning to the U.S., and furthering his studies at California State University, Fullerton as a composition major, Joey continued to pursue his songwriting and musical skills. He participated in a number of musical groups, ensembles and off-campus rock, blues, gospel and R&B bands, where he quickly attained notoriety as a fresh and innovative composer,arranger, and keyboardist.
Later,opportunites opened for him as a gifted producer in the commercial music industry. Among his jazz artist- productions and associations are: Sergio Mendes, Phil Upchurch, Abraham Laboriel, Justo Almario, Alex Acuña, Marcos Loya, Stanley Clarke, Paul Jackson Jr, Frank Gambale, and many others. He has also written and produced music for several film, television, and video/CD Rom companies and jingles, including credits on The Forbidden Dance, Back Street, Tango Wars, Fox Television special with Arnold Swartzenegger, Terminator, The Dallas Cowboys, Thigh Master instructional video with Suzanne Somers, Morgan Fairchild. Workout, and Disney's Ducktales cartoons. He has also composed music for the East L.A. Classic Theatre's two productions of "Mid Summer Night's Dream".
In 1987, Joey Arreguin formed his own music publishing company called Love & Laughter Music, which has been used to further expose his own song catalog as well as other gifted songwriters in the music industry. Currently, Joey is busy producing a number of talented new artists in the R&B, Jazz, and Latin Jazz markets, and has found continued success in both the writing, arranging, and production fields.
Joey Arreguin: Composer/Arranger/Producer/Keyboardist. (2001). Retrieved March 27, 2012, from Just Plain Folks website: http://www.jpfolks.com/Mentors/arreguin.html