No albums list this artist in credits. You are able to edit albums and add credit info if you have created an account.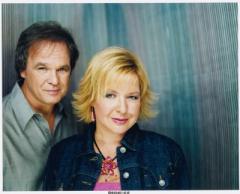 Jeff & Sheri Easter
For Jeff and Sheri, gospel music is genetically programmed into their DNA. As members of acclaimed musical families—Jeff's father is one of the Easter Brothers and Sheri's mother is a member of The Lewis Family—they grew up surrounded by the sound of people praising God through their musical gifts.
In August of 1984, both were at the Albert E. Brumley Sundown to Sunup Gospel Singing in Arkansas. Jeff, who was playing bass for the Singing Americans at the time, took the opportunity to reintroduce himself to Sheri's mother Polly; they had met on a previous occasion. Polly introduced Jeff to Sheri and the two were married ten months later.
They traveled and performed as part of The Lewis Family for several years. But in 1988 they decided it was time to strike out on their own, and they haven't looked back since. Also joining Jeff & Sheri on the road is their son, Madison, who plays electric guitar for the group and their daughter, Morgan, who joins them with vocals to round out the kind of harmonies that only family can produce. The newest addition to the Easter family is Maura Grace, Jeff and Sheri's 'twentieth anniversary gift to each other', who generally makes her way onstage doing anything to bring a smile.
Jeff & Sheri have been nominated for numerous Dove Awards and won six. They've also received two career Grammy nominations, and Sheri has been named the Singing News Favorite Alto eleven times and the Singing News Female Vocalist four times. In 2012 Sheri received Alto of the Year by the National Quartet Convention's first annual awards. Jeff & Sheri's wall of awards also include three Society for the Preservation of Bluegrass Music Association Awards, two International Country Gospel Music Association, nine Voice Awards for Female Artist, five Voice Awards for Song/Single of the Year, two Voice Awards for Christian Country Group, four SGM Fan Fair/USGN awards, seven SGN Scoops Diamond Awards, four Hearts Aflame Awards, and three Cash Box awards. They have also participated in the Gaither Homecoming Video Series since 1993, which has sold over 15 million units.
Apart from their frequent appearances on the Gaither Homecoming tour and videos, Jeff & Sheri have a fairly heavy touring schedule of their own. "When we perform, we want people to leave a little different than when they came in," Sheri explains. "We want them to have a great time smiling, laughing, crying and healing. We want them to know God loves them and that He is in control."
Morgan, Maura, & Madison
Madison, Morgan, and Maura Easter are no strangers to the stage. Growing up in a household filled with music and with their exposure to not only their parents' music, but also that of their grandparents on both sides of the family, music for them was inevitable. At 12 days old for Madison, 9 days old for Morgan, and 11 days old for Maura, they made their first appearances on stage and in the public's eye. From early toddler years, they were always a part of the concert that Jeff and Sheri was performing. Sheri states, "These children love music and have always yearned to be a part, so we always gave them the platform to encourage this love. Both Jeff and I remember what it was like to have a desire to sing and play for the people and we want our children to have every opportunity that God offers to them.
Morgan
Morgan took on the role of third part vocalist for Jeff and Sheri when she was only 14 years old. Although so young, she had already released two albums: the first at the age of five, the second the age of nine. Her third album was released in 2011, titled Not Without Love. She also participated in the Gaither Homecoming Kids Video titled God's Zoo. Just like her brother, Madison, Morgan is also multi-talented. For five years, she attended Stamps Baxter School of Music studying theory, singing- solo and group, as well as piano. She also took piano lessons for ten years, and received the outstanding pianist award at the age of five when she began. Morgan held a role in the Lincoln County Middle School musical, Cinderella, as one of the evil stepsisters during her eighth grade year, in her freshman year, she appeared as one of the bird girls in Suessical, in her sophomore year, she was a 'Copa girl' in Copacabana, in her junior year, took the supporting role of Rusty in Footloose, and her senior year, carried a lead role as Aunt Eller in Oklahoma. Morgan loves working on her computer and is finding her niche as a web designer. She graduated high school May of 2012 and is studying graphic design. Morgan won Singing News Fan Awards Horizon Individual for 2010.
Maura
Maura Easter is the youngest member of the Easter family, and always finds an opportunity to share the stage with her parents and siblings. Whether it's telling a joke, singing a song, or playing a drum solo, she brings a smile to audiences everywhere. Maura loves traveling and will no doubt continue to find her role among her performing relatives. Maura is now enrolled in elementary school.
Madison & Shannon
Madison held roles in each of the four Gaither Homecoming Kids Videos as a child. In Homecoming Kids Camp Out, he played a feature role with George Younce on a duet titled "God Likes to Talk to Little Boys". This was just the beginning! As Madison grew older, he began taking interest in playing guitar. "One day, he was about 14, I heard music coming from his room. He had picked up his guitar and began teaching himself!" says his mother, Sheri. He continued to learn, and also began writing lyrics as well as music. Aside from playing, he often enjoys working in their recording studio, engineering various artists. During his senior year of high school, he served as sound engineer for the high school musical theater department. He has not only played a role in recording audio, but was part of the Gaither camera crew for three years before taking on his role full time as guitarist for Jeff and Sheri in 2003. He has a great sense of humor and is always keeping us laughing while on the road! In the fall of 2008, he began his college studies through Brenau Online College, a satellite school of the University of Georgia system seeking a degree in business, as well as continuing to travel with his family. Madison has won Musician of the Year 3 years in a row by the Absolutely Gospel Music Awards. Shannon is attending Brenau University seeking a degree in Business Management. She is responsible for the product table and office activities as Sheri's assistant. Shannon and Madison dated for 6 years and married December 12, 2010. Together they enjoy writing songs and plan to release their first project soon.
Landan Smith
Landan began playing drums at the age of 5. He and his family reside in Covington, GA, where his father, Ken, pastors. He has two older brothers, Jordan and Logan. When Landan was 9 years old he attended a Jeff & Sheri concert with his family, where his brother, Logan, came up on stage and performed with the group. It was then that Landan told his family that he'd love to play drums for Jeff & Sheri one day. He is currently home schooled, with his mother, Betsy's, supervision. He has 4 dogs and loves football.
Jeff & Sheri Easter Biographies. (2012). Retrieved February 13, 2015, from Jeff & Sheri Easter website: http://www.jeffandsherieaster.com/#!bios/cee5
Websites:
External links are provided for reference purposes. Christian Music Archive is not responsible for the content of external internet sites.