Zoro is listed in the credits for the following albums: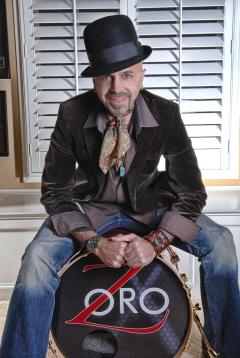 Zoro
Zoro (born Daniel Donnelly) is an American drummer, mainly in the styles of rock, R&B, and hip hop. Zoro is known as 'The Minister of Groove'. His outstanding feel, drive, syncopation and deep philosophies towards drumming have made him one of the most well-known and respected drummers in the world today.
An interesting part of Zoro's playing is his foot technique. Unusually, he plays mostly heel-down. His reason is that he has always played heel-down and he claims to get a "fatter sound" by quickly striking and releasing the beater from the bass drum head, rather than 'planting', as so many contemporary drummers do.
Zoro has toured and recorded with Lenny Kravitz, Bobby Brown, Frankie Valli and the Four Seasons, New Edition, Jody Watley, Sean Lennon, Philip Bailey, Lisa Marie Presley, Throttle Body Motorcycle Club, and many others. He has been consistently voted number one R&B drummer and number one clinician in Modern Drummer magazine, as well as receiving awards from other magazines, including 'Drum!.
In addition to his work in music, Zoro is an increasingly well-known Christian Motivational speaker who appears at festivals and churches around the world, sharing his faith in Christ through his life story. He has been featured extensively on Christian television, including the 700 Club, Daystar Celebration, Jc-TV, The Joni Show, MorningStar Ministries, and other broadcasts.
Wikipedia contributors. (2019, October 16). Zoro (drummer). In Wikipedia, The Free Encyclopedia. Retrieved 17:09, November 18, 2019, from https://en.wikipedia.org/w/index.php?title=Zoro_(drummer)&oldid=921514252