No albums list this artist in credits. You are able to edit albums and add credit info if you have created an account.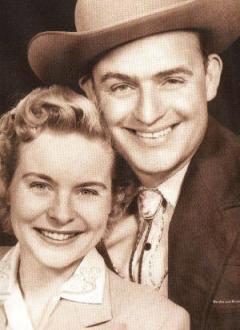 Wesley & Marilyn Tuttle
Wesley Tuttle (born December 13, 1917 in Lamar, Colorado; died September 29, 2003) was an American country music singer. He was raised in California and took up music at age four, relearning to play the guitar and ukulele after losing all but the thumb and one finger on his left hand. He contributed the yodeling to the "Silly Song" in Walt Disney's Snow White and the Seven Dwarfs, and later backed Tex Ritter on guitar. He married actress Marilyn Myers in 1946 and acted with her in several Western films, in addition to recording the duet "Never" with her. Eyesight problems forced Tuttle into retirement in the 1970s.
In 1957, after spending all of his adult life in the secular music business and achieving remarkable success and popularity, Wesley Tuttle asked for a release from his recording contract and stopped performing in clubs and on TV. That was when Wesley Tuttle had become a Christian. Tuttle gave up his recording contract and left the glamour of the country music world for what he considered to be a much higher calling.
Tuttle enrolled in a Christian college to study for the ministry. He became an evangelist who could not only preach a revival but could do the special music as well. And in that capacity he crisscrossed the country, often traveling by himself, rather than with a band as he had for so many years. It was a dramatically different life for both he and wife Marilyn.
Wesley Tuttle also worked part-time as a producer for the Sacred Records label, a side line that lasted until 1970. He helped numerous ministers and other relatively unknown groups to record their gospel music. And along the way, he and Marilyn recorded nine gospel music albums of their own.