No albums list this artist in credits. You are able to edit albums and add credit info if you have created an account.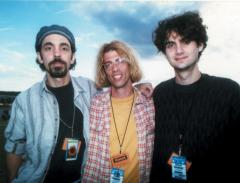 Vigilantes of Love
Vigilantes of Love is a rock band fronted by Bill Mallonee with a large number of secondary players drawn from the musician pool in and around Athens, Georgia. In its later manifestations in the later 1990s and early 2000s, Mallonee usually sang, played lead and rhythm guitar and harmonica, although in earlier bands he played drums.
The band takes its name from the New Order song "Love Vigilantes," although their sound tends more to folk, Americana, and country rock than new wave. Their 2001 album Summershine also showed some movement toward Britpop and R.E.M.-style college rock, which would be more fully explored in Mallonee's solo career.
History
The band formed in 1990 in Athens, Georgia, where Bill Mallonee attended the University of Georgia. The act developed as a mostly acoustic, side-project of The Cone Ponies, the last in a long series of line-ups beginning in the mid-1980s with Windows and Walls, and Bed of Roses. For their first two recording projects—Jugular, Drivin' the Nails—the band performed as a trio between Mallonee, Mark Hall (accordion), and Jonathan "Dog-Mess Jonny" Evans (harmonica); the Athens, Georgia. For the third and subsequent cd projects, guitarist and multi-instrumentalist Billy Holmes played an increasingly important role. Later, when greater local success led increasingly to engagements more widely in the Southeast, and with the departure of Mark Hall and Dog-Mess Jonny, the band then re-formed as a traditional touring four-piece rock band including front man Mallonee, Newton Carter, David LaBruyere (later became bass player for John Mayer), and Travis McNabb (later of Better Than Ezra and Sugarland.).
After many years of successful touring nationally and abroad—England and the Netherlands being particularly fond of Mallonnee's music—the band disbanded in 2001 as Mallonee went solo as a singer-songwriter/guitarist/raconteur playing to the renewed interest in roots-music Americana.
The band reformed in November 2008. The band played its first show back together on November 20 at the 40 Watt Club. That version of the band only lasted a short time before it broke up, and Mallonee returned to his solo career.
Vigilantes of Love. (2015, March 9). In Wikipedia, The Free Encyclopedia. Retrieved 22:07, March 25, 2015, from http://en.wikipedia.org/w/index.php?title=Vigilantes_of_Love&oldid=650596447