No albums list this artist in credits. You are able to edit albums and add credit info if you have created an account.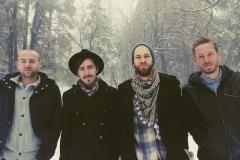 Urban Rescue
Urban Rescue, a worship band based in Los Angeles, California is on mission to write and produce music for their local community and world abroad.
The heart of the band is reflected in their songs: honest, authentic, and passionate. The band's first full-length album entitled, Listen Empty, is a personal dialog between creation and Creator, exploring faith amidst heartache, pain, and doubt. Listen Empty reached #9 on the iTunes Gospel and Christian charts worldwide.
More recently, Urban Rescue produced the EP titled "Wildfire" which was written out of a desire for God to cultivate His kingdom in the life of the church. Their newest single, Kaleidoscope, an electronic influenced worship anthem, talks about God's love changing the way we see the world. "Fronted by Jordan Frye, the band is on mission to inspire the next generation of believers to see their churches, communities and cities awakened by the Gospel of Jesus Christ." 
Urban Rescue became the first official band to sign with Rend Family Records - "a partnership with Capitol Christian Music Group and an endeavor stemming from the group's heart for worship and community." The band's desire is to continue the legacy of those artists who have gone before us in worship music as leaders in the ways people relate to God and engage the world.
Websites:
External links are provided for reference purposes. Christian Music Archive is not responsible for the content of external internet sites.