No albums list this artist in credits. You are able to edit albums and add credit info if you have created an account.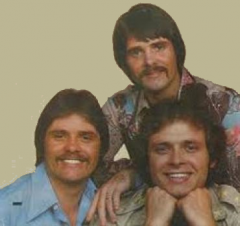 The Sharretts
The Sharretts were three brothers from Bristol, Virginia, Fred, Ed and Bobby. Fred and Ed Sharrett are twins; Bob is two years younger. As active members of their local church, the boys started singing at an early age. By the time they were attending school at Southeastern Bible College in Lakeland Florida, the Sharrett Brothers had become well known as an inspirational trio. Almost every weekend was filled with traveling somewhere to sing. Their sound was compared to The Letterman and the Beach Boys. The brothers released four album on Dayspring Records in the late 1970s and early 80s. Fred and Ed Sharrett also spent time with the Truth.
Where are they Now:
In 1989, Fred Sharrett helped found a new church in Suwanee Georgia. He currently serves at Gateway Church as the Care Pastor.