No albums list this artist in credits. You are able to edit albums and add credit info if you have created an account.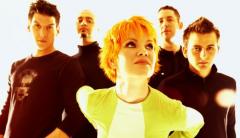 The Benjamin Gate
The Benjamin Gate was a South African Christian band formed in 1998 following the motor vehicle accident and subsequent death of a mutual friend and fellow musician, Benjamin Herbert. Their name, which was also the name of one the entrances into the original city of Jerusalem, was chosen as a tribute to him. 
The band, along with their manager and co-songwriter Marc "Thux" Theodosiou, left Port Elizabeth and came to the United States in 2001 after David Bach at Forefront Records heard their demo that they had sent to Nashville for mastering.
The Benjamin Gate released two local, independent albums while in South Africa, Spinning Head and comeputyourheadupinmyheart. Many of the songs of comeputyourheadupinmyheart were retooled and re-released on their first major-label album for Forefront Records, ["untitled"]. They were nominated for four Dove Awards, produced two #1 and one #2 singles, and toured the United States and Europe. This success helped them to be included on three Festival Con Dios tours.
The group parted ways in 2003 due to Adrienne's engagement to Christian artist, Jeremy Camp. It was noted that Adrienne felt that with her new family starting, that she could not handle the duties required of her both as a rockstar and as a wife.
The Benjamin Gate. (2011, July 21). In Wikipedia, The Free Encyclopedia. Retrieved 12:27, March 29, 2012, from http://en.wikipedia.org/w/index.php?title=The_Benjamin_Gate&oldid=440643162
Where are they Now:
Lead singer Adrienne Liesching married musician Jeremy Camp, and they have two daughters, Isabella Rose Camp (September 25, 2004) and Arianne Mae Camp (April 5, 2006). She has also released two solo albums.
Mac Pautz and his wife and children have relocated to southern England to be closer to his mother-in-law.
Costa Balamatsias remained in Nashville playing with various artists until early 2006 when he relocated back to South Africa.
Nick Volsteedt, a former Mr. South Africa title holder, went to Los Angeles to pursue a modeling career.
Marc Theodosiou currently works in the music industry for First Company Management.
Websites:
External links are provided for reference purposes. Christian Music Archive is not responsible for the content of external internet sites.