No albums list this artist in credits. You are able to edit albums and add credit info if you have created an account.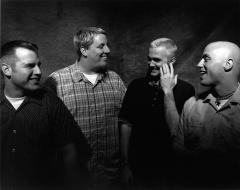 Stavesacre
Stavesacre was an American rock band from Huntington Beach, California formed in 1995. The band was composed of vocalist Mark Salomon, guitarists Jeff Bellew and Ryan Dennee, bassist Dirk Lemmenes and drummer Sam West.
Since its formation, Stavesacre has released five studio albums, two EPs, one split album, one compilation, and one DVD.
In 2007, the band stated they would be disbanding following the recording of a few new songs with Jeff Bellew, the band's original guitarist, who departed after the recording of Speakeasy. Their final release was the Against the Silence EP/DVD documentary.
Formation, Friction and Absolutes
Stavesacre was formed in 1995 as a post-hardcore band following the breakup of The Crucified. Vocalist Mark Salomon and guitarist Jeff Bellew played in The Crucified and, following its disbandment, the two still had a desire to write music. Salomon and Bellew recruited bassist Dirk Lemmenes and drummer Jeremy Moffett. They knew Lemmenes from his former band, Focused, which The Crucified toured with. Salomon and Moffett had been roommates for a while, and Moffett played in the band The Blamed.
The newly formed Stavesacre signed to Tooth & Nail Records because The Crucified was on the label and Salomon enjoyed working with the label owners. The band soon got to work on its debut album, Friction, which was released on June 7, 1996. After the album's release, Moffett left the band and was replaced by former Scaterd Few drummer Sam West. The following year, Stavesacre released Absolutes. Allmusicreviewer Stephen Thomas Erlewine gave the album four out of five stars, saying the lyrics didn't stand out to him but "the sound is so heavy and foreboding that the lack of strong writing becomes a moot point." Following the release of Absolutes, Ryan Dennee joined the band as a second guitarist. Bellew soon departed to focus on his marriage; however, he recorded additional guitars for the band's next album.
Speakeasy and (stāvz'ā'kər)
Stavesacre's third studio album, Speakeasy, was released on November 16, 1999. Doug Van Pelt of HM magazine praised the album and its lyrics, saying, "Lyrically, the band seems to open up its heart for surgery." Speakeasy gained the band its first chart position, debuting at number 44 on the Billboard Top Heatseekers Chart and number 35 on the Top Contemporary Christian Chart. This was the band's last studio album on Tooth & Nail. The label released a collection of songs from Stavesacre's first three albums on Collective and the band released Split/EP with Denison Marrs on famed indie label Velvet Blue Music. In support of the album, the band toured for nearly two years and grew immensely tired of being on the road.
Neil Samoy joined the band before the recording of its fourth studio album, (stāvz'ā'kər). The new album was released on October 1, 2002 through Nitro records. Allmusic reviewer Bradley Torreano gave the album a four out of five stars stating "First, they've managed to balance the mix of guitar and vocals perfectly, with Mark Salomon's dark moan carrying beautifully over the fuzz-drenched guitars" and CCM magazine said "With the release of its self-titled Nitro Records debut, Stavesacre finally delivers on the potential greatness it has often hinted at through three Tooth & Nail releases and a few EPs." Even though the album received favorable reviews, the band was not happy with the final product. In December 2003, Samoy left the band for personal reasons.
How to Live With a Curse
In 2005, Stavesacre released an EP, titled Bull Takes Fighter, and the following year released its fifth studio album, How to Live with a Curse, through Abacus Recordings, an imprint of Century Media Records. Praising the lyrical themes on the album, Andrew Shaw stated "the overall feel of the disc was straightforward and truthful, something that there is all too little of in the industry."
Recent developments
On February 27, 2007, Stavesacre announced they would be disbanding following the recording of several new songs with original guitarist Bellew and the release of a DVD documenting the band's history. The announcement was made on the official Stavesacre MySpace:
I'm sure you've all been wondering what is going on at the Stavesacre Foundation as of late. The fact of the matter is, Stavesacre as we know it is done. We all love each other, and you, as much as we ever have. We just feel that after an incredible 11 year run, it is time to close this particular chapter in our rock and roll journey. Everything is in an extremely embryonic stage at this point, but here's the skinny: we will be writing and recording some new music with a very good friend of ours, Jeff Bellew. We will also be compiling a career spanning DVD that will hopefully involve anyone who's had anything to do with our band. All of this will culminate in a handful of shows to say goodbye.
On March 17, 2008, Lemmenes announced on the band's MySpace that Stavesacre was unsure if they would be disbanding or not. He said, "West is working on the DVD and a few songs have already been recorded with Bellew. The band stated they are recording a new EP titled Against the Silence. It marks the first songs recorded with previous bandmember Jeff Bellew since Speakeasy in 1999. If all goes according to plan, presale on the new EP is set for June 25, while the first batch is slated to ship on July 10, 2009."
In February, 2009, Stavesacre was announced on the lineup of Cornerstone Festival 2009 which ran from June 29-July 4 in Midwestern Illinois. The band had last played Cornerstone in 2002 with a set on Main Stage.
Stavesacre's last release was Against the Silence EP in 2010.
2014 saw a resurgence in activity online, with a variety of pictures posted on members Facebook pages as well as the band's, showing the band apparently writing new music.
Stavesacre. (2015, April 4). In Wikipedia, The Free Encyclopedia. Retrieved 12:40, May 1, 2015, from http://en.wikipedia.org/w/index.php?title=Stavesacre&oldid=654942714
Websites:
External links are provided for reference purposes. Christian Music Archive is not responsible for the content of external internet sites.