No albums list this artist in credits. You are able to edit albums and add credit info if you have created an account.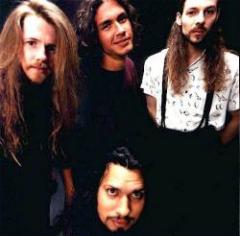 SinDizzy
 SinDizzy was formed by Oz Fox after Stryper disbanded in the early 90's. They released one album "He's Not Dead" that quickly went out of print. SinDizzy also featured Tim Gaines on bass, Bobby MacNeil on lead guitar and John Bocanegra on drums. The debut album was released in 1998 and quickly went out of print. Some of the songs on their only release were meant to be songs for the next Stryper album. Was reissued and remastered in 2008 by Girder Records. Was remastered by Rex Carroll of Whitecross.
Where are they Now:
 SinDizzy only released one album. They have disbanded as Stryper has now reformed with the original lineup. As of Dec 2012 the SinDizzy website was still available as a store only site used to purchase the He's Not Dead CD. http://sindizzy.com/store/
Websites:
External links are provided for reference purposes. Christian Music Archive is not responsible for the content of external internet sites.