S.F.C. is listed in the credits for the following albums: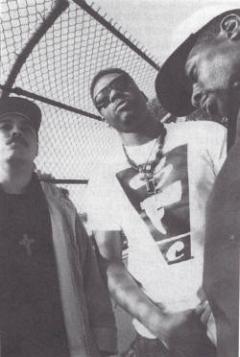 S.F.C.
Soldiers for Christ, or S.F.C. as they were more commonly known, was a ground-breaking Christian rap group from the late 1980's and early 1990's. Headed by Californian Chris Cooper, the group emerged as a frontrunner in the new gospel hip-hop scene, breaking ground in the new Christian genre as well as lending credible skills and "street wise" artistry to make an impact in the mainstream music scene as well. Cooper, also known as "Super C," was joined by a number of different band-mates through four rap albums with Phase III being his most critically acclaimed project.
CCM Magazine called S.F.C.'s debut project Listen Up, historically significant for its use of " reggae rhythms, sampling, and a streetwise aesthetic." Chris told CCM his mission was to "reach drug sellers, club hoppers, and other people you wouldn't find sitting down and listing to a church choir." The band was instrumental in bringing up and exposing newer gospel groups like: Dynamic Twins, the Original Gospel Gangstas, and Freedom Of Soul.
Following their final album, Chris took a break from music before returning as Sup the Chemist in 2000.