No albums list this artist in credits. You are able to edit albums and add credit info if you have created an account.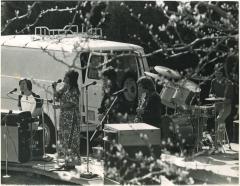 Seth
Seth was a vocal group responsible for three albums of worship-oriented adult contemporary songs. The group is historically significant for the later careers of its members. Their projects seem to mark the earliest recordings of Maranatha! artist Kelly Willard, who was Kelly Bagley at the time. The group was led by Jonathan David Brown, who would later become one of Christian music's top producers. Keith Edwards became a drummer for Amy Grant and then went on to play for a number of general market country artists. His sister, Rhenda Edwards Tull, later sang on Parable's first album, though not as an official member of the band.
Those who remember the group Seth say that Debbie Scott sounded just like Karen Carpenter and that Tull sounded like a young Michael Jackson or a prototype for Crystal Lewis. Surprisingly, Kelly Bagley (Willard) was too shy to sing and mostly just played piano. Brown wrote many of the songs, though the group also covers tunes by Harlan Rogers and Danniebelle Hall.
Powell, M. A. (2003). Seth. In Encyclopedia of Contemporary Christian Music (2nd ed., pp. 809). Peabody, MA: Hendrickson Publishers, Inc.
Photo courtesy of Jonathan David Brown