No albums list this artist in credits. You are able to edit albums and add credit info if you have created an account.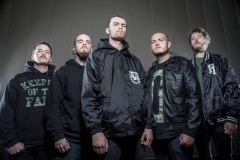 Saving Grace
Since 2005 Saving Grace's ever-growing fan base and dedication to touring has earned them the reputation of the most successful spirit-filled hardcore act downunder. Saving Grace was born in a small coastal beach town in New Zealand, a sleepy beginning to a band that would become a metallic hardcore powerhouse, playing music in the 90s hardcore style of Earth Crisis and Arkangel mixed with classic metal bands like Slayer and Sepultura.
Saving Grace joined the Strike First roster in 2010 and released Unbreakable, then soon became part of the Facedown Family with the release of The King Is Coming in 2011. The band then released their fourth studio album The Urgency to critical acclaim, reaching number one on the New Zealand iTunes heavy music chart, and charting in the top 20 state-side. Critics have called The Urgency "utterly punishing" and "a powerhouse release", saying of the release that "each song is more savage than the last".
Saving Grace Bio. (2016) Retrieved: 15-Apr-2022. From: Facedown Records. https://facedownrecords.com/family/saving-grace/
Websites:
External links are provided for reference purposes. Christian Music Archive is not responsible for the content of external internet sites.